European operators will not be permitted to use temporary conversions of passenger aircraft to freighters beyond the end of July.
Approvals for the modification were introduced by the European Union Aviation Safety Agency in 2020, as the pandemic led carriers to convert dormant passenger aircraft to address the demand for cargo capacity.
EASA issued approvals on a case-by-case basis but imposed a time limit which is set to expire 31 July 2022.
The authority needed to ensure an adequate safety margin to keep the risk of a catastrophic cargo fire to an acceptably-low level.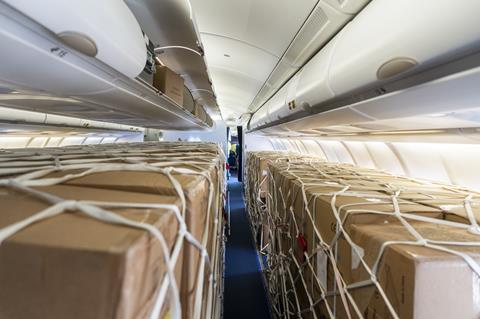 EASA has reviewed the operational environment for such modified aircraft and found that the logistical obstacles created by the pandemic – and which led to the conversions – "no longer exist to the same extent".
Given this improvement in the cargo situation, EASA has decided that it will not extend the validity period for the freighter approvals.
Several aircraft types were authorised under the scheme to transport freight in their passenger cabins.
But while EASA had estimated that a maximum of 2,500 aircraft would be modified by the end of 2021, the authority has found the actual number to be significantly lower.