Insect nesting activity affected the pitot-static systems of eight different aircraft in the space of six weeks at London Heathrow last year, and UK investigators believe the behaviour could have been influenced by changes in air quality and lower noise at the airport during the pandemic.
Two of the incidents resulted in an aborted take-off, while a third involved a return to stand after the crew received multiple alerts during pushback.
Certain species of wasp and bee have been linked to the events which took place between 9 June and 19 July 2021.
The Air Accidents Investigation Branch had stated, in mid-June last year, that it was looking into three incidents suspected to have been caused by insect blockage of pitot tubes.
But it has expanded the inquiry to cover events involving eight British Airways and Virgin Atlantic aircraft, and has sought to understand why there was such a concentration over a short period.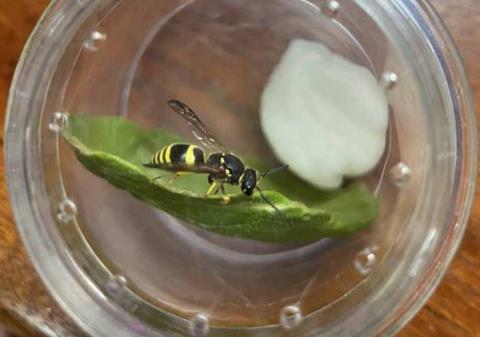 British Airways Airbus A320 (G-EUUO), 9 June
Ferried from London Gatwick to Heathrow on 4 June after two months' storage. After maintenance at Heathrow it was parked overnight on 8-9 June without pitot-static covers, in line with requirements at the time. A take-off on 9 June was rejected at about 100kt after the crew noticed an airspeed disagreement. The left pitot probe was found blocked.
British Airways Airbus A320neo (G-TTNH), 10 June
Parked without pitot-static covers, adjacent to G-EUUO, for two days. The aircraft generated multiple unexpected error messages after pushback, including alerts over the rudder-travel limiter and incorrect airspeed readings, plus failures of the radio altimeter, the unstarted left-hand engine, and an angle-of-angle probe. After a return to stand inspections found two of the three pitot-static probes were blocked.
British Airways Boeing 777-200ER (G-YMMR), 11 June
Positioned at Heathrow for six days. During the departure, the crew found their airspeed indicators were not displaying. The captain ordered the take-off to be aborted. Inspection found the right and centre pitot probes were blocked. This incident convinced the carrier – which had originally thought the G-EUUO and G-TTNH incidents were localised – that the issue was broader. Investigators were notified and operators alerted to the potential issue. British Airways introduced a requirement for detailed pre-departure visual inspection of aircraft parked at the airport overnight. No further blockages were found in 265 inspections across its fleet to 14 June.
British Airways Boeing 787-9 (G-ZBKJ), Boeing 777-300ER (G-STBJ), Boeing 787-8 (G-ZBJF), 15 June
All three aircraft, parked on different stands, were found to have pitot probe blockages during detailed visual inspections. British Airways introduced additional control policies, notably stricter requirements to fit pitot covers, as a result.
Virgin Atlantic Airbus A330-300 (G-VKSS), 1 July
After long-term storage at Manchester, the aircraft underwent maintenance including pitot-static flush, then ferried to Heathrow on 17 June. Pitot covers were fitted on 20 June, and the aircraft was parked on various stands before preparation for flight to Milan on 1 July. On climb-out the crew was alerted to a pitot probe heating failure and switched the air-data computer configuration. No unreliable indications were observed, but after the return Milan-Heathrow service, inspection found debris and contamination in both the captain's and first officer's pitot probes. Several Virgin 787s and A330s were subsequently checked with no findings, but the operator tightened pitot-cover procedures.
British Airways Airbus A319 (G-DBCG), 19 July
Pre-departure detailed inspection revealed an insect inside the pitot probe on the captain's side. A live insect was captured and handed to investigators, who enlisted the Natural History Museum to identify the species.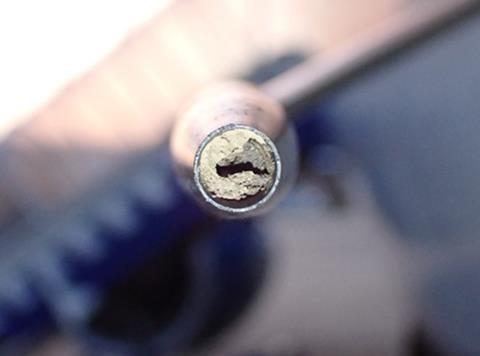 Two species of insect – the wall mason wasp and hairy-toothed small leafcutter bee – were identified by the debris and samples collected during the investigation.
Investigators believe sharply-reduced transport activity during the pandemic resulted in changes to the airport environment – including less noise and vibration, lower concentrations of particulate matter and oxides of nitrogen, but a rise in low-level ozone – and this could have influenced the behaviour of these insects.
"For insects such as wasps and bees, the increase in ground-level ozone in particular, can cause them to travel further and expend more energy to feed and nest," says the inquiry.
"Although not causal, it seems probable that the change in environment was an influencing factor in these incidents."
Pitot tubes of parked aircraft provided suitable nest-holes, it adds, particularly for the wall mason wasp.
Insect control at airport is covered by regulations regarding habitat management, but the inquiry says this is primarily focused on minimising the number of insects in order to avoid attracting bird populations rather than viewing insects as a direct risk to aircraft.
Heathrow's operator, it states, is developing a "layered surveillance and alerting plan" to provide information to local operators on potential increased risk from insects.
"This will enable the operators to put in place additional control measures in mitigation [such as] utilising pitot covers on the ground or requiring pre-flight [detailed inspections]," the inquiry adds.
"It is likely that the temporary surge in these [pitot-static] events came about as a result of a confluence of factors of the pandemic, but it is also a reminder that the environmental response to changes in human behaviour can be unpredictable and have unforeseen consequences."