French investigators have yet to ascertain the cause of damage to an Airbus A380's slat assembly, discovered after the aircraft arrived at Nice.
The A380, operated by Emirates, had been conducting an approach to Nice's runway 04L following a service from Dubai on 18 August.
Investigation authority BEA states that the crew heard an "abnormal noise" and felt "slight vibrations" as they switched the jet's high-lift system to an initial landing configuration.
The selected configuration, 'CONF 1', involves the leading-edge slats extending to 20° while the flaps remain retracted.
BEA has not stated whether the noise or vibration was the result of a system malfunction or an external event, such as a collision.
But it says that, after the jet arrived, the upper surface of the second slat on the starboard wing was found to be "badly damaged".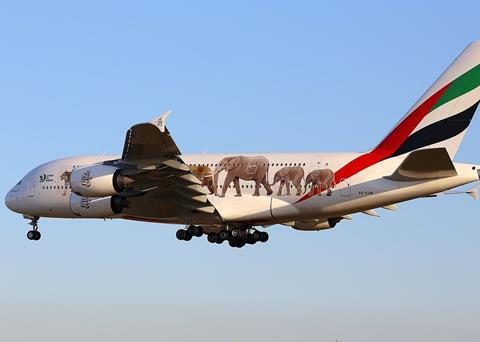 The A380 high-lift system features eight slats on each wing. The second slat is inboard, close to the wing root.
While the aircraft remained at Nice for several days, it returned to Dubai on 22 August.
BEA identifies the A380 involved as A6-EOM, an eight-year old airframe powered by Engine Alliance GP7200 engines, delivered to the Middle Eastern carrier in 2015.