Russian authorities have disclosed that the Volga-Dnepr Antonov An-124 which made an emergency landing at Novosibirsk had experienced braking failure, loss of electrical power, and loss of radio communications.
The aircraft's inboard left-hand Progress D-18T engine sustained "complete destruction" as it departed Novosibirsk on 13 November, states the federal air transport regulator Rosaviatsia.
This resulted in a "limitation" of the crew's ability to control engine thrust, it adds. The uncontained engine failure punctured the fuselage, and damaged the wing and engine pylons.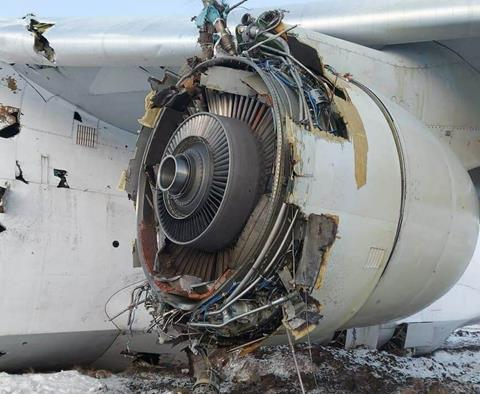 Rosaviatsia says the aircraft had been operating flight VI4066 to Vienna when, just after take-off at 12:09, the engine failed and the crew opted to return to the airport.
It says the destruction of the engine was "incompatible with continuation of flight" and prevented the possibility of the aircraft's stopping within the runway length after landing.
The An-124 landed on runway 25 but was unable to decelerate and overran by about 300m. Six flight crew and eight other occupants were on board the aircraft, but none was injured.
Rosaviatsia says it is still assessing the technical condition of the aircraft (RA-82042), which had been transporting an 83.5t freight load.
It came to a halt with the fan hub of the failed engine having separated, and the airframe sustained damage from running over rough ground.
The aircraft, which had arrived in Novosibirsk from Seoul, appears to have flown to Seoul from Kazan.
While Kazan has been a station for maintenance work on Volga-Dnepr's An-124 fleet, neither Rosaviatsia nor the cargo airline has indicated when the aircraft last underwent servicing or engine checks.