Italian investigators probing a Norwegian Boeing 787-8 engine failure have confirmed that progressive corrosion fatigue resulted in a 6mm crack in an intermediate pressure turbine blade, which separated on take-off from Rome.
Investigation authority ANSV has also disclosed that 84 other similar blades in the left-hand Rolls-Royce Trent 1000 powerplant engine were also cracked, as were 92 blades in the aircraft's right-hand engine.
Some 32s after taking off from Rome Fiumicino's runway 16R on 10 August 2019, the 787 suffered the initial failure at just over 1,000ft radio altitude.
Its crew shut down the left engine and opted to turn back to the airport, landing 25min after departure.
None of the 286 passengers and 12 crew on board the jet (LN-LND) was injured.
The aircraft was powered by Trent 1000 'Package B' engines. At the time Trent 1000s had been the subject of various blade-durability issues and redesign efforts by the manufacturer.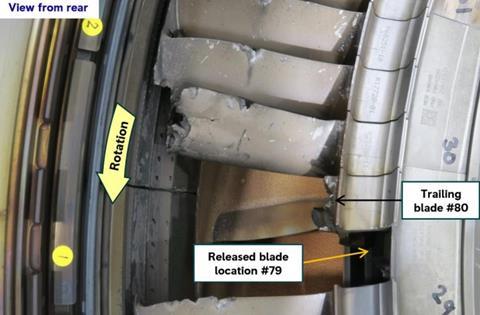 ANSV says the blade failed at 1,210 cycle, still 200 cycles below life-limit imposed by the European Union Aviation Safety Agency.
The inquiry also found that blades on the other engine had a narrower margin, having accumulated 1,337 cycles and leaving just 103 cycles to reach the life limit. Analysis found that the deepest crack in the right-hand engine's blades was nearly 3.5mm.
Ten similar cases of intermediate pressure turbine blade detachment before the Rome event had occurred since 2015, as a result of the same phenomenon, says ANSV.
Phasing out of pre-modification blades had begun more than two-and-a-half years before the incident, and the substitution process was accelerated as a result.