US authorities have disclosed that an Envoy Air Embraer 175 appeared to collide with an unmanned aerial vehicle while departing from Chicago O'Hare.
The US FAA states, in a preliminary notification, that the aircraft "struck a UAS" – an unmanned aircraft system – during a climbing left turn, as it took off from runway 09C for Detroit on 22 August.
Air-ground communications show the crew of a JetBlue Embraer 190, departing the same runway for Boston about 1min before the Envoy service, notified Chicago tower controllers of a "drone" in the area.
The JetBlue crew told the controller that they saw a drone "right over that pond" to their left at about 1,000ft as the aircraft crossed a highway after take-off.
This pond is likely to be either Peterson or Axehead lake, which both lie adjacent to interstate 294, off the end of runway 09C.
After the Envoy E175 took off, the controller asked its pilots whether they had also seen a drone on departure.
"We just saw one – we just hit something," one of the crew replied. The transmissions were archived by LiveATC.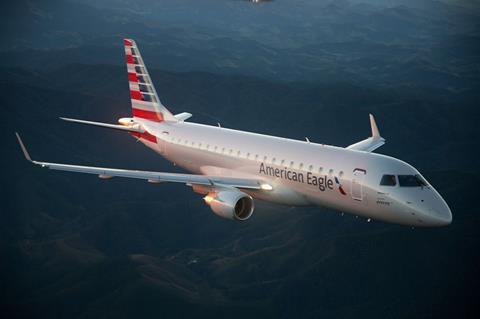 The aircraft levelled at about 6,000ft and entered an orbit before returning to O'Hare.
According to the preliminary FAA notification the jet (N242NN), operating on behalf of American Airlines, sustained only minor damage, and none of the occupants was injured.
There is no immediate confirmation that the drone observed by the JetBlue crew was the same object the Envoy crew reported striking.