Investigators believe lack of flying currency during the sharp pandemic-driven decline in air transport operations contributed to a Trans Maldivian Airways floatplane landing accident at Male in October last year.
The Viking Air DHC-6-300 sustained substantial damage to both wings and its left-hand propeller after it rapidly rolled to the right during a water touchdown at Male's Velana airport, causing the right wing-tip to strike the surface of the sea.
After the aircraft swerved to the right, its left wing dropped to the water before the aircraft settled upright facing the direction from which it had landed.
Two of the three crew members received minor injuries, but the four passengers were uninjured.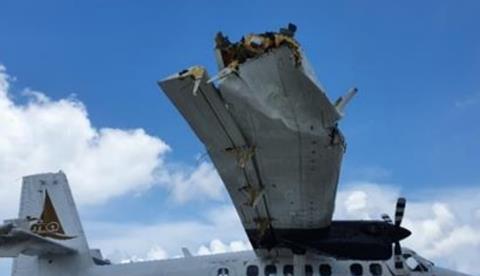 The Maldives' accident investigation co-ordination committee found that the captain, who was flying, had recorded over 12,000h total time including over 3,300h on DHC-6 floatplanes.
But he moved from floatplanes to operate Dash 8s on land for nearly a decade before restarting as a DHC-6 floatplane pilot in January 2020.
The inquiry says he took 60h to be released to line flying, more than the operator's standard of 25h.
Shortly afterwards the Maldives government began to impose restrictions on inbound tourism in response to the pandemic.
"Following release to the line flying, like many [other pilots], the [captain] did not have the opportunity to undertake flying primarily due to lack of air transportation activities resulting from the lockdown imposed in the country," the inquiry states.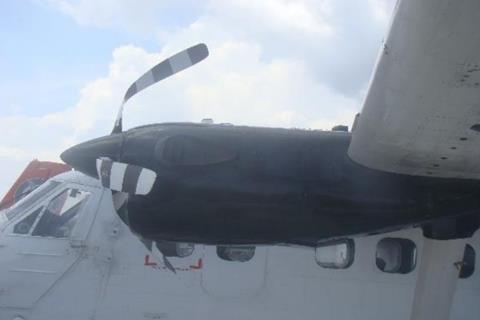 The captain had a "prolonged period of inactivity" as a consequence of the air transport crisis, it adds, recording just 37.5h of flying in the 90 days prior to the 5 October 2020 accident. The first officer, who had over 2,500h on type, had a 90-day figure of 26h.
Investigators point out that pilots transitioning from wheeled aircraft to floatplanes often experience difficulty in mastering the motor skills necessary to maintain the correct attitude for water landings. The aircraft (8Q-TMF) was also subject to varying crosswinds and light rain during the approach.