Norwegian investigators have revealed that a de-icing vehicle driver vainly attempted to stop an Ethiopian Airlines Boeing 787-9 from taxiing onto the wrong de-icing stand, before the jet's right wing struck and felled a lighting mast at Oslo Gardermoen.
The aircraft (ET-AUP), which was preparing for departure to Stockholm and Addis Ababa on 18 December 2018, had been given the wrong stand number, even though two de-icing co-ordinators had agreed on the correct stand allocation.
Investigators state that the Ethiopian 787 was part of a queue for de-icing. It was followed by a Lufthansa Airbus A320 an Atlas Air Boeing 747.
Gardermoen's 'B-North' de-icing platform comprised nine parking stands, in three groups of three, of which only the centre stand of each group – those numbered 992, 995 and 998 – was suitable for large aircraft.
The two co-ordinators thought the most practical option was to allow the larger 787 and 747 to taxi respectively to stands 992 and 995, ahead of the A320.
This meant re-organising the aircraft queue. The inquiry believes this reshuffle became the "main focus" of one of the co-ordinators and "may have contributed" to his subsequent "slip-up" when he instructed the 787 to use stand 991 instead of 992.
Stand 991 was too narrow to accommodate the 787's wingspan. But there was no information in the Norwegian aeronautical information public, or NOTAMs, about which aircraft types could use which de-icing stands, and no signage to warn aircraft crews.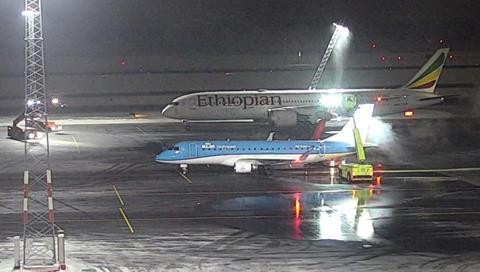 Although the 787 captain saw the lighting mast as the jet taxied slowly onto the stand, and thought the clearance was marginal, he was confident about the instructions he had been given.
He asked the first officer whether he could see the distance between the wing-tip and the mast. The first officer, however, had a limited view.
As the 787 edged forward, the driver of as SAS Ground Handling de-icing vehicle parked at the front edge of stand 991 realised the aircraft was too large.
But the vehicle was an older model and did not have a VHF radio to warn the 787 crew directly, so the driver had to resort to calling the de-icing co-ordinators over an internal radio.
One of the co-ordinators, about 8s before the collision, tried relaying a message to stop the 787 but the jet struck the mast, badly damaging its right wing and causing the mast to collapse.
Accident Investigation Board Norway is recommending the AIP is reviewed to state aircraft limitations for de-icing stands, and that technical solutions are found for Gardermoen to prevent aircraft being directed to the wrong stand. It is also recommending that European regulators consider requirements to fit large aircraft with anti-collision aids for taxiing.