South African investigators have disclosed that an Ethiopian Airlines Airbus A350-900 crew was attempting a go-around in gusty conditions at Johannesburg when the twinjet's right wing-tip struck the runway.
The aircraft, arriving from Addis Ababa on 6 November, had been cleared for the OKPIT 4A arrival pattern and ILS approach to runway 03R.
Automated broadcasts stated that the weather conditions included wind from 300k at 22kt, which would have generated a crosswind from the left.
The captain, who was flying, had anticipated windshear on landing and – as required for strong crosswinds – added 5kt to the approach speed of 137kt, says the South African Civil Aviation Authority.
It adds that the aircraft was stabilised by the time it descended below 1,000ft.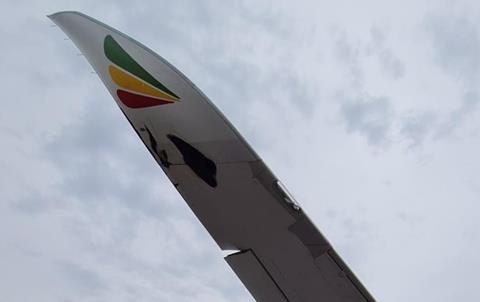 At 30ft above ground level, the captain flared with an adjusted crosswind landing technique. But he was unable to make runway contact within the touchdown zone and, having concluded the aircraft was experiencing windshear, opted to execute a go-around.
"During the initial stages of the go-around, the gusty wind overbanked the aircraft to the right," says the inquiry.
The aircraft's right wing-tip struck the runway leaving white scarring some 110m in length beginning 80m from the touchdown zone.
Air traffic control instructed the crew to maintain runway heading and climb to 8,000ft, before vectoring them for an approach to runway 03L.
"The crew related to [air traffic controllers] that they had encountered windshear on final approach," the inquiry says. The A350 subsequently landed safely on runway 03L.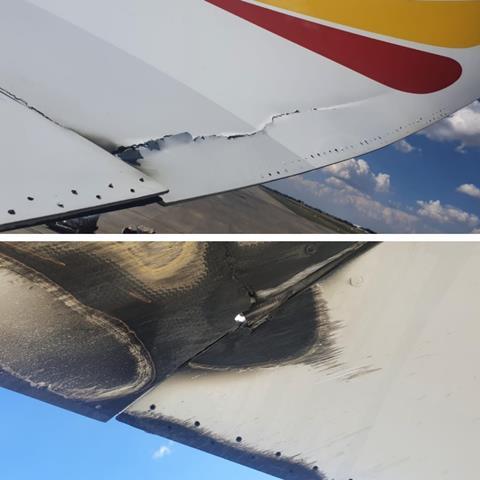 Upon disembarking the aircraft (ET-AYB) the crew noticed that the right wing-tip had sustained substantial damage. None of the 68 passengers and 12 crew members was injured.
The captain had recorded over 1,700h on type from a total flight time of more than 10,600h.
Investigators are still probing the event and have yet to reach conclusions over its circumstances.