All three Aeroflot Group carriers, plus S7 Airlines and Ural Airlines, are among 21 Russian operators blacklisted by the European Commission over safety concerns related to continued operation of aircraft seized by the Russian government.
While Russian carriers are already barred from operating within the European Union, as part of the sanctions measures imposed over the Ukraine conflict, the Commission has formally added the 21 specific operators to its safety blacklist.
This is to reflect the Russian government's re-registration of foreign-owned leased aircraft, placing them under its own jurisdiction, and their continued operation by airlines despite their certificates of airworthiness being withdrawn by the legally-appointed oversight authority.
"This is in breach of international aviation safety standards," says the Commission.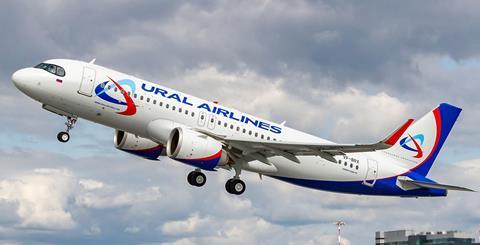 Carriers on the list include Utair, Yakutia, Aurora, Smartavia, Yamal, Nordwind, and several others.
European transport commissioner Adina Valean says the Russian federal regulator Rosaviatsia has "allowed" airlines in the country to operate "hundreds" of foreign-owned aircraft without official safety approval.
"The Russian airlines concerned have knowingly done so in breach of relevant international safety standards," she adds.
"This is not only a clear breach of the [Chicago Convention] but it also poses an immediate safety threat."
Valean stresses that the blacklisting is "not another sanction" against Russia, because it is being taken purely on safety rather than political grounds.
"All EU air safety list decisions are based on facts and on safety considerations only," says the Commission.
"We do not mix safety with politics. The situation will continue to be closely monitored in the coming weeks and months, and if necessary, further action may be taken."