Pan-European air navigation organisation Eurocontrol has outlined three strategies to improve efficient use of electromagnetic spectrum as it ponders whether increasing spectrum demand from the mobile connectivity sector could affect aviation safety.
Eurocontrol has examined the situation following the conflict caused in the USA by roll-out of '5G' technology, potential interference from which has forced revision of operational procedures for various aircraft types.
The US issue has focused on possible adverse effects on the aircraft radio-altimeters, data from which is used by certain flight-control systems. Radio-altimeters use the 4.2-4.4GHz frequency band, and the US allocation for 5G spectrum, covering 3.7-3.98GHz, lies close to this region.
Eurocontrol says the European band allocation is more distance, at 3.4-3.8GHz, which means the situation is "not considered to be a problem requiring immediate safety mitigations" within Europe. It also points out that "higher levels" of radiated power in the USA potentially create a greater interference risk.
But with spectrum bands a scarce resource, the organisation warns that aviation remains at risk from spectrum inefficiency.
Loss of low-visibility approach landing capability to spectrum interference, combined with knock-on delays from diversions, could generate costs to European airlines of €180 million ($187 million) over the course of a year and affect 1.2 million passengers.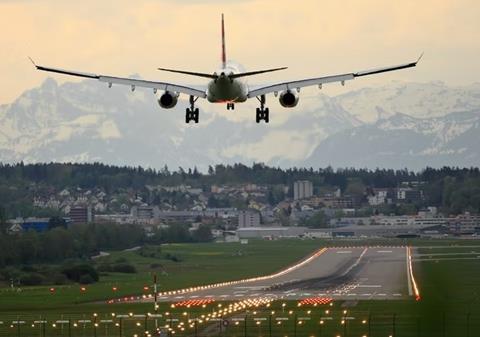 "While aviation has no difficulty to innovate in other areas, current business models inherently fail at creating incentives for improving aviation spectrum efficiency," argues Eurocontrol.
It has identified improvement to adjacent band filtering as one of three strategies which could contribute to raising this efficiency.
Using "all the available tricks in the physics manual" could limit the exposure of systems to adjacent band energy, claims Eurocontrol.
"To be effective, adjacent-band filter design needs to follow developments in other industries," it adds, arguing that aviation "missed the opportunity" to deal with the threat to radio-altimeter spectrum even though mobile telecoms demand, and its evolution towards 5G was "clear years ago".
Eurocontrol believes a "lighter" recertification process would encourage updates to better radio-frequency performance in line with routine parts replacement.
"Despite more modern – and often better-performing parts inside a box of avionics – certification linked to the initially-written standards will be maintained, since recertification bears a significant engineering cost," it says.
"Where newer parts, with better [radio] performance, have no impact on system performance, not triggering a full recertification process could incentivise innovation."
Eurocontrol also says the industry should avoid dismissing acceptable technology, which could enhance spectrum efficiency, in a quest for the perfect.
This flawed thinking, it says, means that – given the long lead times for aviation – the industry can fall into the trap of striving for a newer technology which appears "on the horizon" despite having agreed to implement a predecessor.
"This is what happened to [the microwave landing system] and what seems to be happening to AeroMACS, a data communication system for the airport environment," it states.
Hesitating to commit to a system, when a more capable one appears in reach, seems "logical", Eurocontrol acknowledges, but actually "tends to impede progress" – and leaves inefficient legacy systems in use for a prolonged period.
"Striving for the 'art of the achievable' would help to ensure that aviation [systems] make at least some progress in spectrum efficiency," adds Eurocontrol, "even if it may not be as dramatic [a] gain as some communities may wish for."