European safety regulators have refused to lift an operational ban on Pakistan International Airlines imposed at the end of June.
While the airline does not feature on the European Commission's blacklist of banned carriers – which was revised on 2 December – it has not been reinstated on the list of third-country operators approved by the European Union Aviation Safety Agency.
EASA imposed the sanction following preliminary findings over the fatal loss of a PIA Airbus A320 at Karachi and the revelation, around the same time, that a high number of pilot licences issued by the Pakistani civil aviation authority were obtained fraudulently.
The licensing concerns and the "lack of effective implementation" of a safety-management system led EASA to suspend PIA's approval, states documentation associated with the Commission's blacklist revision.
Third-country authorisation was also suspended for Pakistani Boeing 737 operator Vision Air.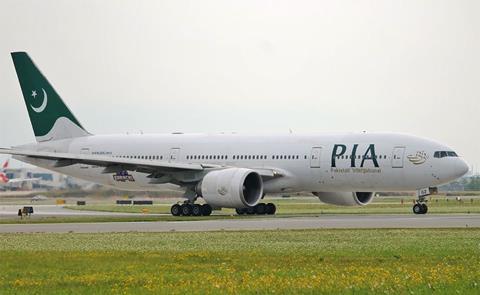 The Commission has consulted with the country's civil aviation authority since the suspension, requesting information on its oversight of carriers and the personnel licensing situation – seeking evidence that similar doubts over licence validity are not present in the cabin crew or maintenance sectors.
Technical meetings were held with the civil aviation authority on 9 July and 25 September, and the Commission says the authority has been "co-operative and transparent".
Examination of the situation ultimately led to the revocation or suspension of the fraudulent licences, the Pakistani authority has told the Commission, as well as to the decision to stop issuing new licences from the end of June 2020.
"[They] also informed [us] that new aviation rules had been put in place to deal with the issues raised and, where appropriate, enforcement actions had been taken," says the Commission.
But with regard to safety-management system oversight, the civil aviation authority has acknowledged that implementation is still at an early stage.
"It appears that [the authority] still needs to effectively identify the root causes of its problems, and to deal with them in a sustainable manner," says the Commission.
While the Commission believes the Pakistani authority is "engaged in a significant effort" to take the corrective actions necessary to address safety concerns, PIA's third-country approval remains suspended. European regulators plan to conduct an on-site assessment visit to Pakistan.
PIA's permission to operate to the UK is also suspended, as a result of the EASA decision, a consequence of the UK's still being in a transition period following its departure from the European Union.