European authorities have formally dropped the recommendation to wear face masks on board aircraft, and within airports, as part of a revision of pandemic-related safety measures.
Revision of the joint aviation health safety protocol from 16 May takes account of advances in vaccination rates against Covid-19 and the development of natural immunity, which have prompted the easing of restrictions in increasing numbers of European states.
"Face masks will no longer need to be mandatory in air travel in all cases, broadly aligning with the changing requirements of national authorities across Europe for public transport," says European Union Aviation Safety Agency executive director Patrick Ky.
"This is a big step forward in the normalisation of air travel."
But Ky adds that passengers should still "behave responsibly" and "respect the choices of others".
Face masks remain one of the best protective measures against transmission of Covid-19, and are effective at preventing the spread of other illnesses.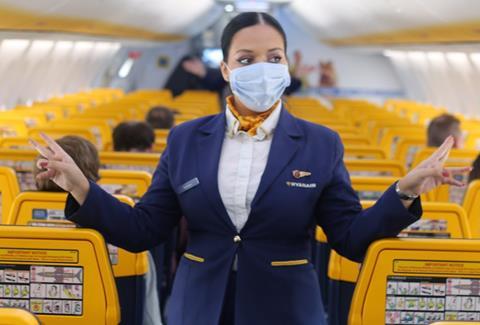 EASA has revised the protocol in collaboration with the European Centre for Disease Prevention and Control.
"While risks do remain, we have seen that non-pharmaceutical interventions and vaccines have allowed our lives to begin to return to normal," says ECDC director Andrea Ammon.
Although the revision will recommend relaxing the stricter rules on operations, individual airline and travel requirements are likely to vary beyond the 16 May implementation date.
"Rules and requirements of departure and destination states should be respected and applied consistently, and travel operators should take care to inform passengers of any required measures in a timely manner," says Ammon.
EASA says passengers are encouraged to observe social distancing, but adds that airport operators should be "pragmatic", and avoid situations such as creation of bottlenecks, especially if distancing is not required at regional or national level.