Australian investigators have discontinued an investigation into a fatal light aircraft crash after finding a catalogue of operational violations including the fact that it was being flown by an unlicensed pilot.
The Jodel D11's engine started intermittently cutting out at a height of 60ft, almost immediately after take-off from Ball Bay airfield on 24 December last year. The engine failed and the pilot attempted to make an emergency landing on a beach.
But the aircraft struck the ground with its left main wheel, then the nose, and it rolled onto its right side, coming to rest partially inverted after travelling 22m. The pilot survived but the passenger, the only other occupant, was fatally injured.
According to the Australian Transport Safety Bureau, the pilot did not have a licence to fly, nor a licence to maintain the aircraft.
The pilot, who had purchased the aircraft in 2011, issued a maintenance release – despite being unauthorised to do so – in 2015. This release expired in January 2016.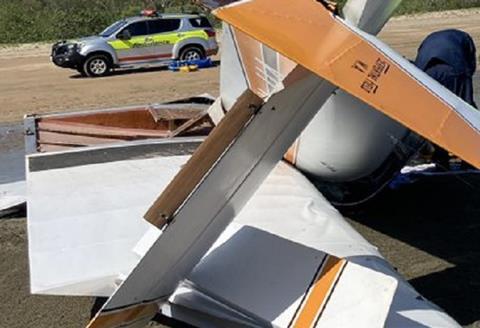 According to the aircraft's logbook, the last entry for periodic inspection under the maintenance schedule was in 2011, the last engine logbook entry was dated January 2014, and the last pilot logbook entry was in 2015.
Both the pilot's and the passenger's seatbelts, which were manufactured in 1973, had been required to be removed from service before 1990. The inquiry found the seatbelts had "completely failed" in two places.
Such was the lapse that a directive ordering the seatbelts' replacement was cancelled 13 years ago on the assumption that all affected aircraft would have long been modified.
Although the inquiry carried out a preliminary examination of the Jodel's wreckage, it did not identify any "obvious" reason for the engine failure.
Investigators opted against a detailed probe to understand the failure because neither the aircraft nor the engine had been maintained in accordance with regulations for about 10 years, and an in-depth examination would have been "unlikely" to turn up broader safety problems, the inquiry states.
"When owners operate outside of the rules, they remove the built-in safety defences and undetected problems are more likely to emerge," the inquiry points out. There would be "limited safety benefit" in continuing the investigation, it adds, when resources could be more effectively directed elsewhere.