Australian investigators probing the fatal crash of a Piper PA-28 in mountainous terrain in Queensland have found the pilot did not hold any licence qualifying them to operate the aircraft.
The pilot had undertaken training at a flying school and completed just over 30h of instruction – including 5h solo flying – over the 12 months to November last year.
Less than 3h of this training was carried out on PA-28s.
As a result of this finding, the Australian Transport Safety Bureau is dropping its inquiry into the accident in order to avoid wasting investigative resources.
The aircraft, with the pilot and a passenger on board, departed Natal Downs Station for Lakeside Airpark in visual conditions on 2 April. It flew at around 6,000ft – heading east towards the Clarke Range mountains – before descending to 2,000-2,500ft.
Peaks in the Clarke Range rise to more than 3,200ft and weather in the area deteriorated, with broken cloud, showers, reduced visibility and isolated thunderstorms.
The aircraft turned southeast in the vicinity of high terrain, but surveillance data was lost shortly afterwards.
It crashed into a steep slope at around 1,900ft altitude some 36km west of its destination. Neither occupant survived.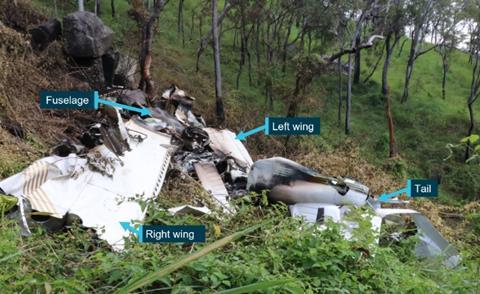 The inquiry stresses that weather is a significant cause of general aviation accidents, and the risks when visual-rules pilots fly into instrument conditions are "well-recognised" yet remain a "recurring factor".
Although the pilot had completed the practical requirements to obtain a recreational pilot's licence, they had not completed either the flight or theory tests.
This meant the pilot held neither a recreational licence nor a private pilot licence, and did not hold a certificate from the Recreational Aviation Australia organisation.
The pilot nevertheless became the owner of a PA-28 (VH-PXR), and investigators could not ascertain the extent of any time gained in the aircraft.
"When pilots operate outside [civil aviation] rules, they remove the built-in safety defences," says the Australian Transport Safety Bureau. It says that there is "limited safety benefit" in pursuing the investigation "compared with other priorities" and is formally discontinuing the inquiry.
Investigators point out that the pilot had completed maintenance in February to clear blockages affecting the pitot-static mast.
"They did not hold an aircraft maintenance engineer licence or authorisation to perform or certify for maintenance on the aircraft," the inquiry adds.
"This type of maintenance could lead to erroneous indications of the airspeed indicator, altimeter, and vertical speed indicator. It could not be determined if this contributed to the accident."
Wreckage analysis found the aircraft was inverted, but could not determine whether this occurred before impact or afterwards. The inquiry says an in-flight break-up, engine failure or fuel exhaustion are "unlikely" and the wreckage was consistent with a low-speed, high angle-of-attack impact.