Search personnel have retrieved the flight-data recorder from the Sriwijaya Air Boeing 737-500 which crashed into the sea shortly after departing Jakarta.
Indonesian search and rescue agency Basarnas says the recorder was handed to the investigation authority KNKT on 12 January.
KNKT has yet to determine whether the details of the accident have been captured on the device.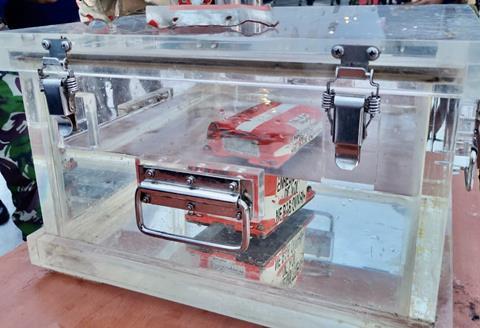 The inquiry has already suggested the aircraft had been heading in an unexpected direction following take-off from Jakarta for Pontianak on 9 January.
KNKT states that the aircraft had been cleared to climb, via a standard instrument departure, to 29,000ft.
Services departing runway 25R for routes to the north-east – such as that for Pontianak – would typically execute a tight right turn to the east immediately after take-off.
KNKT has not specified the departure pattern for which flight SJ182 was cleared, but it states that, just after take-off, air traffic controllers observed the aircraft on a north-west course at 14:36 and "not heading" for an east bearing of 075°.
It has obtained radar and ADS-B data from the country's air navigation service, AirNav Indonesia, showing the jet flying the north-west track. Investigators have not clarified the reason for the apparent discrepancy.
Meteorological data from Jakarta at the time indicates the presence of cumulonimbus cloud in the vicinity, but the inquiry has not indicated whether this was relevant.
Unauthenticated surveillance data suggests the aircraft, after a few minutes, gradually turned towards the north-east as it climbed.
KNKT has yet to confirm this but says the data it has obtained from AirNav Indonesia shows the aircraft climbed to 10,900ft by 14:40 but the last transmission points to its subsequently descending through 250ft.
Chairman Soerjanto Tjahjono says the retrieval of data down to 250ft indicates that aircraft systems were still functioning and "capable of transmitting information".
He says that, based on this, the inquiry believes the aircraft's engines were still operating before impact.
Field information obtained by the inquiry from the hydrographic vessel KRI Rigel indicates the wreckage distribution is 300-400m in length and 100m in width.
"This distribution is consistent with the assumption that the aircraft did not experience an explosion before hitting the water," says Tjahjono.
Fifty passengers, six active crew and six additional crew members were on board the aircraft.