Australian investigators have found that an Alliance Airlines Fokker 100 crew was unaware that the aircraft had entered a stall-protection mode after its airspeed fell below a crucial threshold during approach to Rockhampton.
The carrier's initial and cyclic training for the type "did not adequately prepare" its pilots to identify, and respond to, such mode activation during critical flight phases, says the Australian Transport Safety Bureau.
Inbound at night to Rockhampton's runway 33, the aircraft had been slightly high on the approach when smoke haze from bushfires reduced visibility and obscured precision-approach path indicator lighting.
While the approach had been stable down to 600ft, the aircraft encountered convective turbulence from the bushfire which – in combination with a reduction in pitch and thrust from the first officer – increased its descent rate to 1,200ft/min for short periods, breaching the carrier's stability criteria.
At a height of 300ft the captain noticed the airspeed falling towards the 'minimum allowable' threshold. As the crew attempted to recover the airspeed, the first officer found the thrust levers difficult to advance – describing them as "stuck".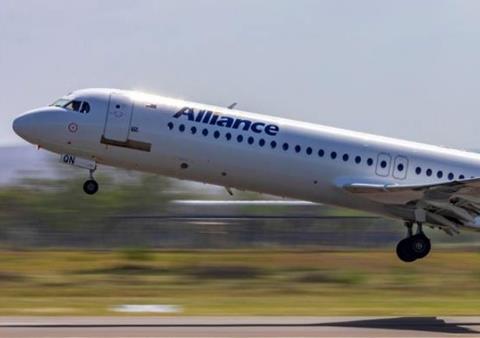 The captain opted against taking control and executing a go-around, owing to the airspeed concern, reduced stall margin, and confusion over the thrust lever movement.
"Due to the resistance to the advancement of the thrust levers, it took a few more seconds before the first officer was able to forcibly move the thrust levers forward to the desired setting," says the inquiry into the 10 November 2019 event.
The airspeed subsequently increased and thrust-lever resistance reduced, and the Fokker 100 (VH-UQN) landed safely.
Investigators found the aircraft had entered 'alpha mode' as the airspeed bled away, an automatic feature to protect the jet from low-speed loss of control at high angle-of-attack.
The crew was "unaware" that this mode was active, and the operator's training had not prepared the pilots for the effects of its activation during critical phases of flight, the inquiry says.
In particular the Fokker 100 is fitted with mechanical-electrical rods connecting the thrust levers to the thrust-control cable system.
If the aircraft enters 'alpha mode', the system is designed to increase lever resistance in order to prevent the crew from reducing thrust further and potentially exacerbating a low-speed incident.
But this also means the force required to advance the levers becomes greater than normal, and can contribute to the perception that the levers are jammed.
Alliance Airlines, in response to the incident, introduced new type qualification and cyclic training which encompasses 'alpha mode' procedures, with crews of Fokker 100s and Fokker 70s checked twice-yearly for proficiency.