Pilots of a Garuda Indonesia ATR 72-600 applied dual pitch inputs just before the turboprop touched down on its nose-gear at Ende, bounced to the left, and touched down again on the runway shoulder before the crew diverted to Labuan Bajo.
The aircraft's approach to Ende's runway 27 had been unstable – with a high approach speed which peaked at 133kt below 50ft – and the crew should have executed a go-around, says Indonesian investigation authority KNKT.
It adds that the captain, upon arrival at Labuan Bajo, only informed the engineer that they had conducted a go-around at Ende, after bouncing, without mentioning the excursion – even though there was grass and dirt on the right-hand side of the aircraft.
In its findings over the 19 October 2015 event KNKT states that the ATR (PK-GAF) was descending pitch-down at 1,000ft/min while just 26ft above the runway.
Although the captain was the flying pilot, the first officer intervened at this point and applied a nose-up input.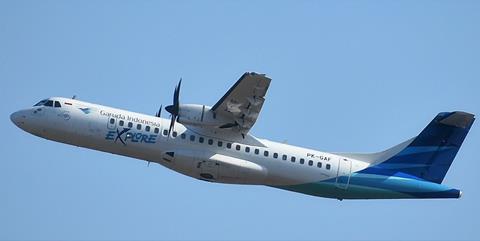 "The [first officer] voluntarily assisted the [captain] without advising the [captain] as the [flying pilot]," says the inquiry, adding that this shows crew resource management was "not implemented properly".
As a result of the first officer's pitch input, the aircraft began to transition to a nose-up attitude, but then returned to nose-down after an opposite input from the captain. This dual input decoupled the elevators and triggered a 'pitch disconnect' alert, and enabled the first officer to regain pitch authority.
"Being unaware of the [first officer's] input made the [captain] assume that he was the only one providing control to the aircraft," says the inquiry. "The aircraft might have been moved in a way that was not expected by the [captain]."
The aircraft's nose-down attitude resulted in its bouncing on its nose-wheel before the main landing-gear made contact about 1s later with a 1.6g impact.
KNKT says the aircraft was rolling about 3° to the left and the subsequent bounce cause it to shift left of the centreline.
There was no attempt during the first bounce to conduct a go-around, and the aircraft touched down again on the left shoulder of the runway before the crew aborted the landing.
"After [completing] the go-around procedure, the [captain] was aware of the severity of the occurrence," says KNKT, adding that the crew asked for a debris check on the runway.
Following the diversion to Labuan Bajo the failure to report the serious incident properly meant the cockpit-voice recorder was overwritten before the investigation was initiated.
None of the 20 occupants, including 16 passengers and four crew members, was injured.