French investigation authority BEA stresses that the missed-approach incident involving an Air Algerie Boeing 737-800 at Paris Orly demonstrates the continuing relevance of its earlier analysis of aircraft state awareness – particularly mode changes – during go-arounds.
The aircraft deviated from the published missed-approach flightpath after its pilots were startled by an unexpected go-around order, following an approach to Orly in December 2019.
High crew workload meant the aircraft missed its level-off altitude and entered a turn late with an excessive bank angle, before a change of mode resulted in the 737's descending rather than climbing.
This mode change was a contributor to a similar go-around incident, with a Neos 737-800, at Bristol six months earlier.
"Effective crew synergy to closely monitor the [flight-mode annunciation] remains essential," says BEA.
"Crews must not hesitate to disconnect the automatic systems when they no longer understand them."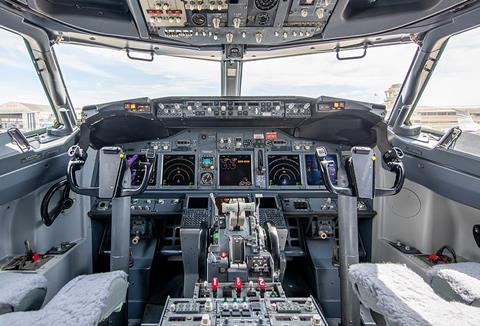 It says that conclusions reached in its extensive 2013 study into crew awareness of the aircraft's state during go-arounds "are still relevant" – notably its finding that ergonomic improvements should be made to facilitate interpretation of modes and detection of changes.
Simulations carried out during the study found that crew readings of the flight-mode annunciator were "often deficient" during a go-around.
"Up to 10 undetected [annunciator] mode changes were observed during the same go-around," it says, with some of them having a direct consequence on the flightpath.
"Non-detection of [mode changes] by the two crew members is principally linked to cognitive saturation, time pressure, the absence of a defined visual scan pattern and the workload associated with a missed approach."
The European Union Aviation Safety Agency had previously responded to BEA's recommendation for improved ergonomics by saying that it had already been considered by certification specification and that the agency's automation policy also dealt with the issue.
BEA argues that this response is "inadequate" given the persistent difficulties in reading and interpreting mode changes.
The go-around study explored the difficulty of intercepting missed-approach altitudes, particularly when the published altitude is low – such as the 2,000ft requirement at Paris Orly – and the aircraft is a type which climbs rapidly, especially if lightly laden.
BEA notes the French Bee Airbus A350-900 go-around incident at Orly in February last year also resulted in a bust of the 2,000ft altitude requirement.
Investigators found that eight go-arounds at Orly conducted in 2019 led to deviations of more than 200ft with respect to the cleared altitude. Six of these involved stabilisation altitudes of 2,000ft, even though go-arounds to this altitude only accounted for 21% of all missed approaches in the same period.
BEA has recommended that French air navigation service DSNA looks into the feasibility of increasing the published missed-approach altitude at Orly, to give crews more time and reduce the risk of flightpath deviation.