UK investigators believe a British Airways Boeing 787-8 nose-gear retraction accident at London Heathrow might have been prevented if health and safety risks in an airworthiness directive had been given greater attention by the operator.
The accident occurred when a nose-gear locking pin was inserted in the wrong location on the parked jet (G-ZBJB) before the landing-gear was cycled during a maintenance check. When the nose struck the ground, a pilot and a cargo loader received injuries, and the aircraft sustained substantial damage.
According to the Air Accidents Investigation Branch, the operator's engineering department assessed an airworthiness directive and service bulletin – with a three-year compliance period – detailing modification to prevent incorrect lock-pin insertion.
"Their assessment concluded that the issue was not flight-safety related or an airworthiness risk and embodiment towards the end of the compliance period was acceptable," says the inquiry into the event on 18 June last year.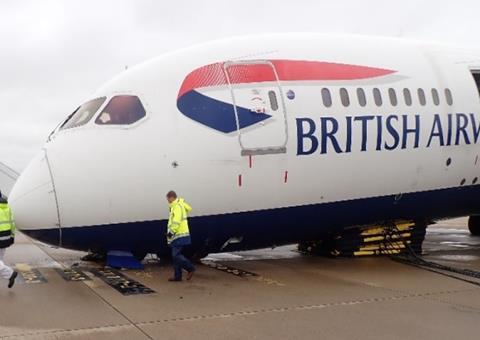 "Despite the warnings in the [directive], the potential risk of serious injury to personnel working around the aircraft and boarding passengers was not given sufficient consideration."
While implementation of the remedial action was initiated, it was put on hold and "repeatedly deferred" owing to the economic impact of the pandemic, says the inquiry.
If greater consideration had been given to the risks to personnel safety – which were "clearly highlighted" in the directive and service bulletin – the operator might have "escalated" the priority for the modification.
British Airways has since completed modification of its 787 fleet, having accelerated the process following the accident.
It has also reviewed its procedures for assessing directives and service bulletin, in order to identify health and safety risks more effectively, the inquiry states, and has taken a number of other preventative steps.
While the operator had a safety-management system in place at the time, it had not been adopted by its maintenance organisation because there was no legislated requirement for such measures.
But the carrier has started implementing a safety-management system for maintenance following a proposal from the UK Civil Aviation Authority for introduction by the end of this year.