One of Guatemalan regional carrier TagAirlines' Saab 340A turboprops has been involved in a runway excursion at Flores, in the north of the Central American state.
The aircraft had been arriving on 16 April, following flight 5U211 from Cancun in Mexico.
TagAirlines says the aircraft experienced an "event" on landing, but that the "experience and expertise" of the pilots meant the aircraft came to a halt off the side of the runway.
All 14 passengers and three crew members were evacuated from the Saab without injury, it adds.
Weather conditions at the time of the arrival were good, with winds from the east.
But the aircraft, initially approaching from the west, appears to have overflown the airport before approaching again from the opposite direction before making its final approach from west.
Flores airport has a single runway, designated 10/28, which is 3,000m in length.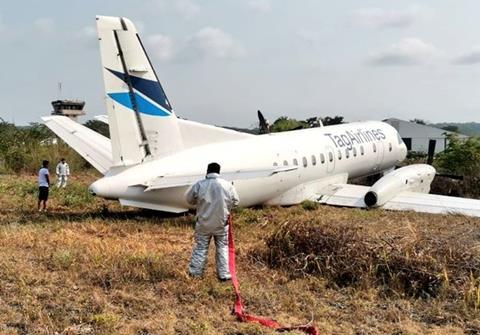 TagAirlines says it regrets the inconvenience caused to other operations at the airport while the process to recover and transfer the aircraft was progressing.
"We reiterate our commitment to continue operating with professionalism and quality," adds the carrier. "The most important thing is the safety of [our] passengers."
The airline has not disclosed the extent of any damage to the turboprop, or detailed the circumstances of the event.
It has identified the aircraft involved as TG-TAI, which was originally delivered to US commuter carrier Bar Harbor Airlines in late 1986.