All the occupants of an Embraer EMB-120 turboprop have survived after the aircraft crashed during landing at Mogadishu.
The Somali civil aviation authority states that the Halla Airlines aircraft "crash landed" on runway 05 at the capital's Aden Adde international airport on 11 July.
Video images circulating on social media, purporting to have been captured at the accident site, show the EMB-120 sliding along the runway apparently without its left-hand main landing-gear.
It veers off the left side of the runway, rotating 180° as it slips down an embankment, before its right wing strikes a fence.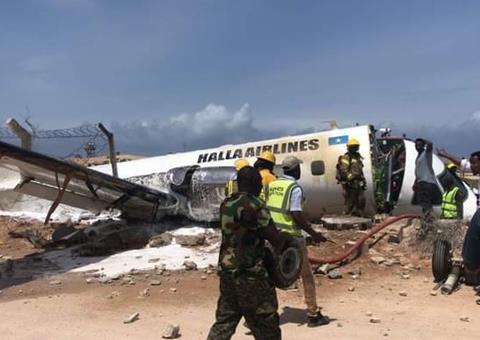 Photographs show the EMB-120 came to rest on its fuselage underside, upon a shallow rise from rough ground, having suffered damage to its wings and engines, and with its cockpit section separated.
The images also show the aircraft is registered 6O-AAD. There is no immediate information about an airframe bearing this identity.
Halla Airlines has a single EMB-120, according to Cirium fleets data, registered 6O-AAB.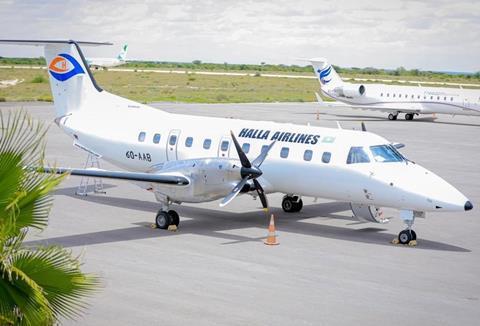 The civil aviation authority says 34 passengers and crew members were on board the aircraft.
"There was no fatality from the accident," it adds, although some of the occupants suffered "minor injuries".
Meteorological conditions at the time of the accident, 12:23 local, indicate good visibility but 17kt winds from south-southwest – which would have generated a tailwind component for runway 05.