US investigators have disclosed that a seated cabin crew member suffered a serious spinal injury after a Boeing 737-700 landed hard at Santa Ana airport in California.
According to the National Transportation Safety Board, the flight attendant – harnessed in the aft jumpseat – said the Southwest Airlines jet "hit the ground with such force that she thought [it] had crashed".
The aircraft had been arriving from Oakland as flight WN2029 on 1 July. Investigators state that the pilots were flying a visual approach to Santa Ana's runway 20R.
"They were aiming for the touchdown zone due to its short runway and trying to fly the aircraft onto the runway with minimal floating," says the NTSB.
"However, it ended up being a firm landing."
Santa Ana's runway 20R is 5,700ft in length.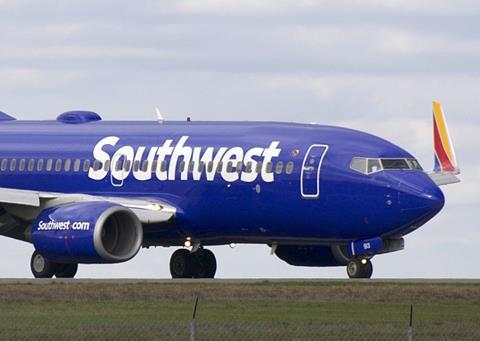 The flight attendant felt immediate pain in her back and neck and was unable to move, subsequently being transported to a local hospital where she was diagnosed with compression fracture of a thoracic vertebra between the upper shoulders.
None of the 137 passengers, nor the four other crew members, was injured. The aircraft (N480WN), delivered new to the budget carrier in 2004, was not damaged.