Kamchatka's regional government is attempting to contain the disruption to air transport and tourism services on the peninsula in the aftermath of two fatal accidents in five weeks.
Helicopter operator Vityaz-Aero – which connects several remote settlements in the region and has a tourism division – has been prohibited from passenger carriage after a Mil Mi-8T crashed and sank in lake Kuril on 12 August.
Kamchatka governor Vladimir Solodov says the accident had already been "a test for the tourism industry" in the area, but the passenger ban presents an "even more serious test" for Vityaz-Aero, the region's largest helicopter operator, which carries 40,000 passengers a year.
Solodov is confident that Vityaz-Aero has the necessary experience to take the measures necessary to resolve the operational problems highlighted by federal air transport regulator Rosaviatsia, and says the government is ready to discuss the matter with authorities and assist where needed.
"When the [issues] are eliminated we will resume flights in full, as soon as possible," he says, adding: "We are doing everything possible, together with tour operators, to compensate and minimise damage to tourists in connection with changes to tourism routes."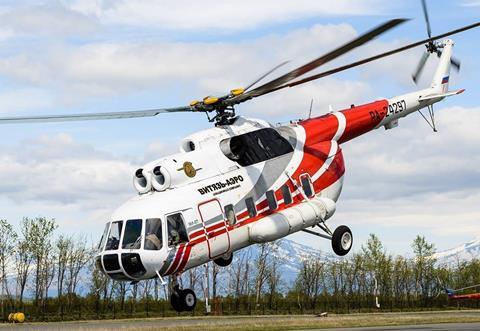 Kamchatka deputy governor Sergei Mironov, who oversees transport in the territory, says the carrier Kamchatka Aviation Enterprise is "ready to increase the number of flights" on the network to "completely replace" the services of Vityaz-Aero.
But this carrier itself remains the subject of an investigation following the 6 July fatal accident involving an Antonov An-26, which flew into a cliff while attempting to land at Palana airport. The regional government had only just finished making initial compensation payments when the Mi-8 crash occurred.
Eight of the 16 occupants of the helicopter were fatally injured. Recovery efforts are continuing to retrieve two remaining casualties from inside the sunken fuselage.
Deputy governor Roman Vasilevsky, who has responsibility for tourism, says military personnel are mapping the debris – with all main parts having been located – but have yet to decide how to raise the helicopter, which lies 110m down, to the surface. Access to the fuselage has been achieve through an aft hatch, and there are plans to use specialised underwater equipment to retrieve the flight recorder.