Russian investigators are focusing on icing in relation to the dual-engine failure which resulted in a PZL-Mielec An-28's having to make an emergency landing in a swampy field, where it flipped over and suffered extensive damage.
Federal air transport regulator Rosaviatsia states that accident occurred shortly after the An-28, operated by SiLA, departed Kedrovy for its service to Tomsk on 16 July.
Weather forecasts for low-altitude flight pointed to freezing conditions at altitudes of 2,500-3,000m.
Rosaviatsia says both Omsk TVD-10 engines failed in the climb and it carried out a "forced landing" in a swampy region some 60km from Kedrovy. The aircraft came to rest inverted and badly damaged but all 18 occupants survived.
Its captain had nearly 4,000h on type out of a total of 7,300h. The first officer had total time of 155h.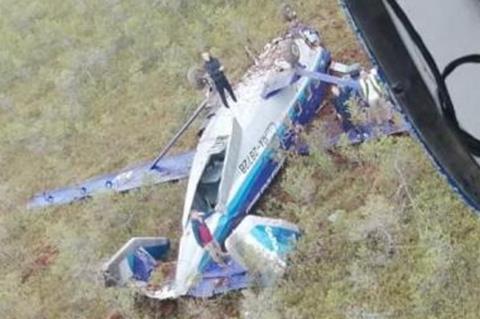 While the investigation into the accident is continuing, Rosaviatsia is recommending that pilots be given additional awareness training on operating procedures for anti-icing systems – before and during flight – and actions if icing alarms are triggered or the crew observes signs of icing.
It also says An-28 operators should carry out a one-time check of the anti-icing systems on the type.
Rosaviatsia says it has recorded seven events, including one accident and three serious occurrences, involving An-28s suffering engine failure during icing in the three decades since 1991.
Incorrect or badly-timed activation of anti-icing systems, it says, was often found to be a contributing factor in such events, both on An-28s and other types.
"Unlike aircraft ground icing, which is more typical for the autumn-winter period of operation, icing of aircraft in flight can occur at any time of the year when flying in conditions of increased humidity – both at negative and small positive external temperatures," says Rosaviatsia.