Regional operator QantasLink has reviewed procedures at non-controlled airports to improve communication, after a Bombardier Q400 entered and taxied along an active runway, forcing a landing light aircraft to execute a go-around.
Investigators found the Q400 crew had been under time and workload pressure before the departure from Gladstone airport on 17 March last year.
The pilots had about 45min to complete pre-flight preparations but were faced with "several unanticipated events and distractions", says the Australian Transport Safety Bureau, including an auxiliary power unit technical problem and the need to deal with procedures for a passenger who was travelling while in police custody.
While the preparations were taking place a single-engined ATEC 321 Faeta began circuit training using runway 28, with an instructor and student on board. The occupants maintained position broadcasts on the common traffic advisory frequency throughout.
But the Q400 crew initially omitted to select this frequency on the VHF radio, and then set the wrong frequency when the omission was picked up during the departure briefing.
One of the Faeta pilots broadcast that the aircraft would be switching to touch-and-go practice on the opposite-direction runway 10 but, owing to the mis-set frequency, the Q400 crew did not hear the message.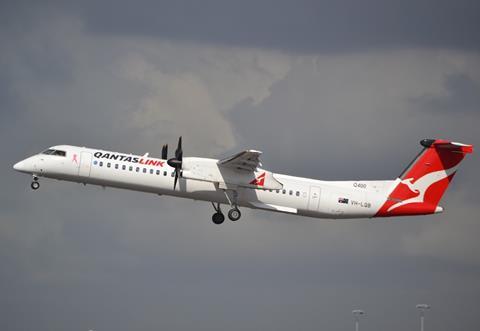 Wind direction did not favour either runway and the Q400 crew opted for runway 28 to avoid direct sunlight, which meant entering at the A5 intersection and backtracking to the threshold.
The first officer twice broadcast on the incorrect traffic frequency as the aircraft taxied, the second time as it approached the intersection.
While the pilot of the Faeta, a few seconds later, broadcast an advisory that the aircraft was on short final, the Q400 crew did not receive it and neither of its pilots saw the Faeta as they entered the runway. The instructor on the Faeta carried out a go-around and tried, without success, to contact the Q400.
As the Q400 backtracked it received a transponder code and the captain, while entering it, realised the transponder had not been set correctly during pre-flight preparations. The transponder subsequently indicated climbing traffic above, and the Faeta was seen by the Q400 crew.
The Q400, with 38 occupants, subsequently departed without further incident. No-one on either aircraft was injured.
Investigators state that the Q400 crew's situational awareness was "significantly degraded" as a result of the undetected errors with the radio and transponder.
"[This] caused the captain and first officer to form the shared belief that no other traffic was operating in the vicinity of Gladstone airport," says the ATSB. "This shared incorrect mental model likely impacted the efficacy of the visual scan conducted prior to entering the runway."
QantasLink subsequently introduced a requirement to contact air traffic control prior to entering a runway at non-controlled airports. It also reminded pilots of the importance of standard procedures and threat management when dealing with distractions.