Space-based communications specialist Inmarsat is to test the use of a transponder on one of its satellites to refine GPS navigation for the UK, after its 'Brexit' withdrawal from the European Union forced the UK to give up access to the previous service.
The Inmarsat-3 F5 satellite – launched in 1998 and positioned in geosynchronous orbit at 54°W – will be "repurposed", says the company, to create a UK space-based augmentation system.
It aims to narrow the precision of GPS signals from a few metres to a few centimetres, with the intention of providing greater accuracy for aviation and maritime users.
The project, which began in October, will "provide a basis" to assess future development into a support for safety-critical services such as approach and landing.
Inmarsat expects a signal-in-space broadcast to commence by the end of March 2022.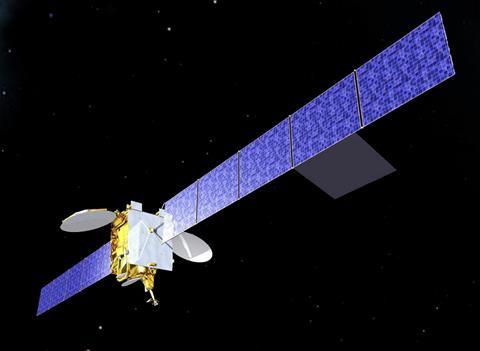 UK operators previously used the European Geostationary Navigation Overlay Service's safety-of-life capability.
But the withdrawal from EU membership resulted in the UK's no longer having access, and it is similarly not involved with the EU's navigation satellite programme Galileo.
"This new national capability supported by current and future Inmarsat satellites could offer a new option for high-integrity, precision navigation across the country, in its airspace and within surrounding waters," says Inmarsat.
Funded by the UK Space Agency, the project is being carried out in co-operation with the European Space Agency, Goonhilly Earth Station, and Nottingham-based satellite navigation technology firm GMVNSL
Goonhilly will provide the uplink for the system from Cornwall while software from GMVNSL will generate the ground-based navigation signal.
Inmarsat says the project will "extend the long life" of the satellite, adding that the partnership has all the assets needed to activate the system in a "very short timeframe".
"This work also has the potential to be exported to other nations around the world, benefiting the UK economically as well as technologically," says Nick Shave, vice-president of strategic programmes for Inmarsat Global Government.