Russian investigators probing the fatal Aeroflot Sukhoi Superjet 100 landing accident at Moscow two years ago have analysed a Yakutia Superjet overrun and gear collapse as part of an assessment of the type's structures and components.
After returning to Sheremetyevo airport on 5 May 2019 the Aeroflot aircraft landed hard, suffering an undercarriage collapse before being destroyed by fire from escaping fuel.
The Interstate Aviation Committee's inquiry – which has been held up by pandemic-related restrictions – is exploring several aspects of the aircraft's operation and design.
It has looked into details of the Yakutia Superjet accident at Yakutsk in October 2018, during which the landing-gear collapsed when the jet overran the runway and struck an obstacle in an area under construction.
The inquiry has completed analysis of undercarriage load modelling carried out by landing-gear supplier Safran, including assessment of research results into safety-related components of the landing-gear attachment points.
Investigators have also studied the destruction sequence of the landing-gear and wings in the vicinity of the fuel tanks.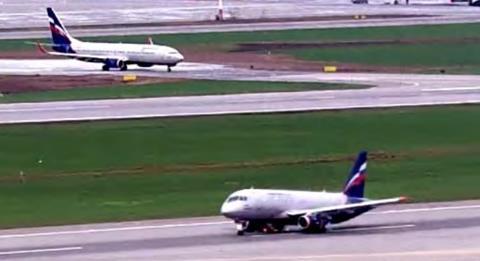 St Petersburg's university for the Russian state fire service has conducted a technical review of the fire, and the Interstate Aviation Committee has used its conclusions to request additional information from Superjet 100 suppliers including Collins Aerospace – which provides passenger cabin interiors – and Saint-Gobain Sully which provides windows.
"After receiving the necessary information, the commission will complete work on analysing the physics of the event and the spread of fire in the aircraft cabin," says the inquiry.
Investigators have also yet to complete work on several other areas of interest.
These include an assessment of the crew's ability to control the Superjet's PowerJet SaM146 engines after its landing-gear collapsed and the aircraft settled onto its nacelles during the roll-out.
The inquiry is, in addition, waiting for the results of studies focused on fire-protection units manufactured by Curtiss-Wright.
Investigators state that a draft final report on the accident, which led to 41 fatalities, is still being prepared but pandemic-related restrictive measures continue to "significantly affect" the date of completion.
But it stresses that any hazardous issues identified have been brought to the attention of federal air transport regulator Rosaviatsia and other relevant authorities.