Dual engine failure preceded the crash of an PZL-Mielec An-28 in the Tomsk region of Russia, investigators have disclosed.
Flight-recorder information is being extracted to assist the probe into the 16 July accident which all 18 occupants survived, although some sustained injuries – including the captain, who suffered fractures.
The twin-turboprop, operated by Siberian carrier SiLA, had been flying between Kedrovy and Tomsk when – about 10min after departure – both engines stopped functioning, says the West Siberian transport division of the federal Investigative Committee.
"Repeated engine restarts did not return them to operation," it adds. The An-28 is fitted with two Omsk TVD-10 powerplants.
The Investigative Committee says the An-28's captain selected a location to conduct an emergency landing and the aircraft, with no power, glided to a site about 70km from Kedrovy.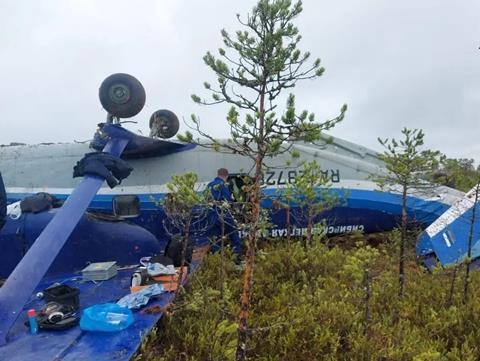 It touched down but then made a "hard landing" about 180m further along, it states, and flipped over, coming to rest inverted and badly damaged.
"The crew took immediate measures to evacuate passengers from the aircraft cabin," says the Investigative Committee, adding that an emergency beacon was then transmitted to alert rescuers.
Sections of the aircraft are being transported from the crash site for further examination, fuel samples have been taken and documentation retrieved. Three crew members and 15 passengers were on board, and investigators have been conducting interviews with passengers and personnel involved.