Investigators are probing an incident in which an Airbus A320neo crew operating an oceanic service believed fuel was blocked in the jet's outboard tanks.
The aircraft – operated by Icelandic low-cost carrier Play – was flying from the Spanish resort of Malaga to Reykjavik's Keflavik airport on 13 June.
French investigation authority BEA, citing Icelandic counterparts, states that the twinjet had been approaching the equal-time point between Shannon and Keflavik.
The equal-time point is a threshold where the flying time to two alternative destination airports is the same, accounting for factors such as distance and wind. Calculating this threshold is important for decision-making in the event of an emergency.
BEA says the crew suspected "blocked fuel" totalling 1,400kg in the outboard tanks, which would have left only 300kg available upon arrival at Keflavik.
"There was no way of determining if the fuel information [was] accurate," it states, adding that there were amber indications for the outer transfer valves.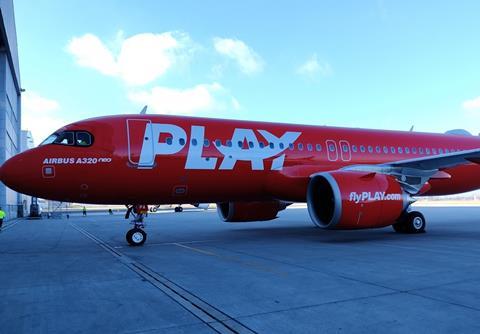 As a result the crew determined that proceeding to Keflavik was the "only viable option", says BEA, and declared an emergency, requesting a higher cruise altitude and direct routing. The jet was cleared to 38,000ft which increased the arrival estimate of fuel to 400kg.
Further circumstances of the event have yet to be disclosed, but none of the occupants was injured. The distance between Malaga and Keflavik is around 1,760nm, and that between Shannon and Keflavik is some 800nm.
BEA identifies the aircraft involved as TF-PPA, a CFM International Leap-1A-powered airframe originally delivered to lessor CALC in 2020 and transferred to Play last year.