UK accident investigators have disclosed few additional details of the crash involving an experimental hydrogen-electric Piper M350 a year ago, beyond stating that the aircraft suffered a power loss.
The aircraft (G-HYZA) had been modified with an electric motor powered by hydrogen fuel cells, and was carrying out test flights in the vicinity of Cranfield airport, for future-propulsion specialist ZeroAvia, on 29 April 2021.
According to the Air Accidents Investigation Branch the experimental aircraft suffered loss of power to the electric motors during flight.
"Loss of power occurred when, as part of the test procedure, the battery was selected 'off' leaving the electrical motors powered by the hydrogen fuel cell," it states.
This resulted in the Piper's conducting a forced landing in a field near to the airport. The impact and the rough terrain badly damaged the aircraft, which came to rest with its left wing separated from the airframe. No-one was injured.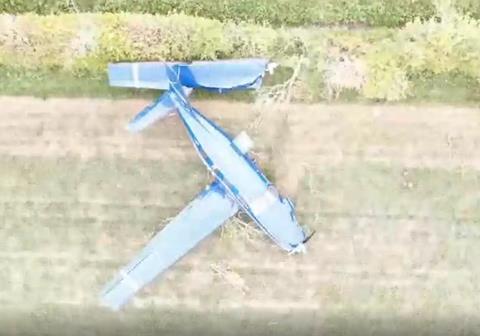 Investigators have yet to elaborate on the reason for the hydrogen-electric power loss.
ZeroAvia had been testing the six-seat aircraft as part of its HyFlyer demonstration programme, and stated at the time that the structural integrity of its systems was maintained throughout the incident".
The M350 had been wrapping-up the test campaign and ZeroAvia has since moved on to more ambitious activities including modification of a twin-engined Dornier 228.
Investigators have disseminated the draft inquiry report for consultation and expect to publish a final version in mid-2022.