Iraq's civil aviation regulator has clarified its measures to restrict Iraqi Airways Airbus A220 operations, citing engine damage to two airframes.
The Iraq Civil Aviation Authority states that it took the decision to suspend A220 operations over a "sense of responsibility to preserve the safety of passengers and air traffic".
It says an initial technical inspection of one aircraft on 30 April revealed damage to the inner engine lining and the fan blades after arrival at Baghdad.
The authority adds that a second A220 suffered "the same damage to one of its engines" during a flight to Tunisia two days later.
Iraqi Airways is stressing that, contrary to certain information circulating about the situation, there was no "engine explosion" on the aircraft in Tunisia.
The Civil Aviation Authority points out that several A220 operators have been "exposed to the same technical problems", referring specifically to EgyptAir and Swiss.
Iraqi Airways has a fleet of five A220-300s, which are exclusively powered by Pratt & Whitney PW1500G engines.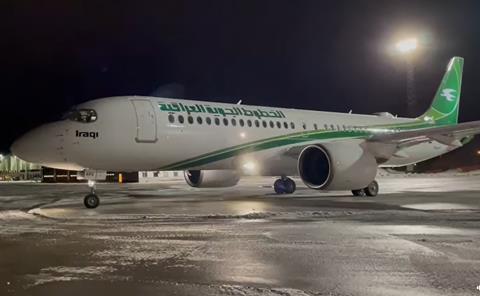 According to a document circulating on social media, apparently from the Civil Aviation Authority and dated 3 May, the engine incidents affected YI-ARG and YI-ARI – delivered respectively in December last year and January this year.
"It was decided to stop operating all aircraft of the [A220-300 model] immediately and until further notice until the completion of the investigation procedures," the document states.
Iraqi Airways has been taking delivery of Boeing 737 Max jets as part of its fleet renewal, and recently returned a Bombardier CRJ900 (YI-AQA) to service after five months, following work including replacement of its landing-gear in Spain.
Fleet modernisation also includes introducing Boeing 787-8s, the first of which (YI-ATC) has started undergoing flight tests at the airframer's facility in Charleston.