US investigators believe a Britten-Norman BN-2A Islander stalled at low altitude on approach before fatally crashing short of the runway in Michigan.
Four of the five occupants of the aircraft did not survive the crash, 320ft south of Welke airport on Beaver Island, on 13 November 2021.
The Islander (N866JA) had been arriving from Charlevoix municipal airport after a short daylight flight at 1,500ft across Lake Michigan.
It carried out a straight-in approach to runway 35, in good visibility, starting to descend about 3nm from the threshold.
Investigators recovered a handheld device from the aircraft which provided GPS data, and calculated the airspeed based on the GPS groundspeed information and wind conditions at Beaver Island airport about 2nm away.
This analysis showed the aircraft's airspeed declined as it approached the runway – from 58kt while 1,200ft distant to 54kt at 600ft, with the final recorded data point indicating 33kt.
For the aircraft's weight, the stall speed with extended flaps was 42kt.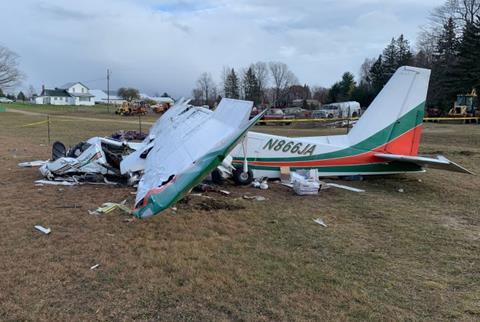 The chief pilot for the operator, Island Airways, witnessed the accident, testifying to the National Transportation Safety Board that he could see the aircraft flying "very slowly" in a "near-stall position".
"He stated that it appeared to be flying nose-up with no power," says the inquiry.
"He realised that the pilot only had a few seconds to lower the nose and add power before the airplane stalled. His first reaction was that the airplane was 'wallowing' and no-one was flying the airplane."
Investigators state that the Islander's pilot allowed the airspeed to decrease and the pitch to increase, leading to a stall and spin into terrain. The surviving occupant, one of four passengers, sustained serious injuries.
The pilot, with nearly 3,000h total flying experience, had 136h on type and had joined the operator I March 2021, eight months before the accident, completing the company's training and proficiency checks by mid-July.
As part of the inquiry, investigators have reminded that stalling can occur at any airspeed, altitude and power setting. The inquiry stresses that pilots manoeuvring at low altitude in visual conditions, in the vicinity of an airport, can be momentarily distracted from the task of flying and fail to recognise the onset of a stall.
It adds that lowering the nose is the most important immediate response for stall recovery, even if this seems counter-intuitive at low altitude.