US investigators have concluded the crew of an ITA Airways Airbus A330-200 misjudged the available space while taxiing past an Air France Boeing 777-200ER, colliding with the parked aircraft and then proceeding to take off despite both jets' sustaining damage.
The accident occurred in darkness at New York JFK on 17 June last year, while the arriving Air France 777 (F-GSPQ) was parked awaiting a tractor tow to the gate at Terminal 1.
According to the National Transportation Safety Board, the ITA A330 (EI-EJL) passed behind the 777 at around the same time as the tractor arrived.
"The crew [of the 777] said they felt the airplane move due to a 'hard connection' [with the tractor], but they were unaware of an airplane passing behind at that time," says the inquiry. The pilots and the purser in the aft cabin all noticed the shift.
After the 777 was moved to the gate, and the passengers had disembarked, ground personnel discovered that its right-hand elevator had been substantially damaged by the left-hand winglet on the A330.
"I tried to call the ground controller to stop [the ITA aircraft] but the discussion was very lengthy," the 777 captain told the inquiry.
As a result the controller could not prevent the A330 from taking off before its crew was notified of the collision.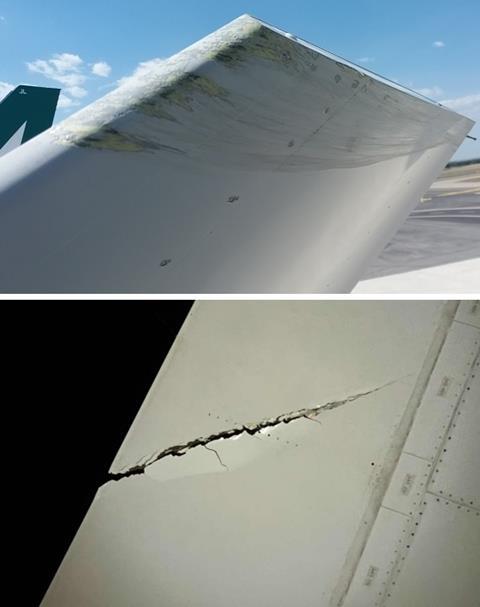 The three-person ITA cockpit crew – among them a captain, a pilot undertaking supervised line training, and a safety pilot – stated that ground control had cleared the A330 to taxi to runway 31L.
"Passing close to the [777 the] pilots and all other persons on board did not notice anything anomalous," the crew told the inquiry.
The crew said they received a message during initial climb that an Air France aircraft had reported being hit on the ground by an "Alitalia flight" – Alitalia was the predecessor airline to ITA.
When the controller asked the ITA crew whether they had experienced any damage, the pilots replied in the negative. The cabin crew had not noticed any evidence – such as noise or vibration – during taxiing.
But as a precaution the pilots carried out aircraft flight checks, without discovering any abnormality, and also transmitted a message over the ACARS communication system to the airline control centre to determine if any malfunctions had emerged.
No sign of difficulty was detected and the pilots opted to continue the flight to Rome Fiumicino, where the A330 landed without incident. External inspection revealed a longitudinal abrasion on top of the left-hand winglet. The inquiry says this was "consistent with the winglet contacting an object".
It states that the ITA A330 crew's "misperception" of separation distance behind the 777 caused the accident. No-one on either aircraft was injured.