Canadian investigators have disclosed that two flight attendants were injured, one of them seriously, during a hard landing by a Bombardier CRJ900 at Vancouver last month.
The Jazz aircraft had been arriving from Edmonton on 27 August carrying 58 passengers and four crew members.
Transportation Safety Board of Canada states, in an operational bulletin, that the first officer was flying, while the captain was conducting a check ride.
It touched down in darkness on runway 08L. The safety board says the recorded impact was 2.789g, exceeding the threshold for a high-load inspection.
After shutting down the aircraft, the cockpit crew realised that a flight attendant seated on the aft jump-seat had been seriously injured and, after being given medical treatment, was transported to hospital. The other flight attendant received minor injuries.
None of the passengers was injured.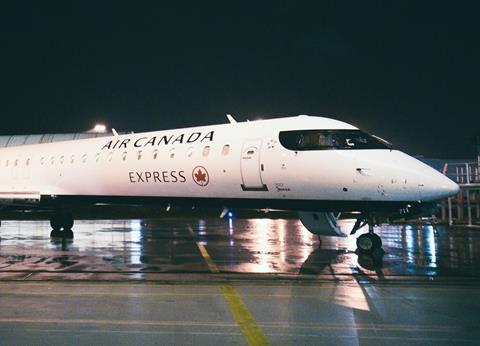 The safety board says the pilots had been unable to start the auxiliary power unit, although it has not confirmed whether this related to the hard landing.
Both main landing-gear shock-absorbers had "bottomed out" during the event, it adds, and the CRJ900 remained grounded for six days while an inspection was performed. Both main landing-gear assemblies were replaced.
Meteorological data for Vancouver at the time indicates good visibility with winds from the east. The aircraft involved (C-FOJZ) is a 14-year old airframe originally delivered to SkyWest Airlines.