Rescue personnel are having to deal with adverse weather and difficult terrain to reach the crash site of an Antonov An-26 which came down while attempting to land at Palana on the Kamchatka peninsula.
The crash site is located 5km north of the town, says Kamchatka regional governor Vladimir Solodov, adding that the aircraft apparently "crashed into a high hill" in poor weather while conducting a go-around.
Parts of the fuselage are located on the hill, he says, while other large sections of the aircraft have been located in water.
Solodov states that rescue operations had to be suspended overnight on 6-7 July owing to the weather, large waves, and the inaccessibility of the crash site to helicopters.
On 7 July an operational group will be formed with specially-trained mountain rescuers and divers being deployed to the wreckage sites.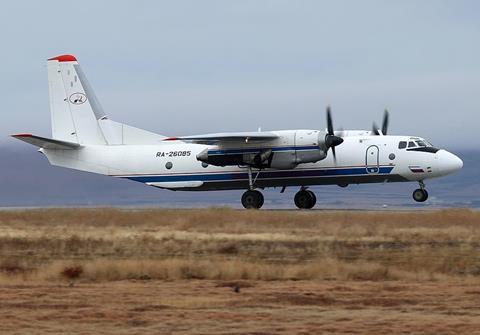 Kamchatka Aviation Enterprise flight 251 had 22 passengers and six crew members on board, and was bound for Palana from Petropavlovsk-Kamchatsky.
Russia's emergency situations ministry puts the crash site at 3.8km north of the airport, and says it will use all-terrain vehicles to aid the rescue effort.
Nine years ago, in September 2012, an An-28 from a previous iteration of the carrier, operating the same route and also designated as flight 251, fatally collided with high terrain about 11km south-west of Palana.
Investigators determined that the aircraft was not fitted with a ground-proximity warning system and that the pilots had been intoxicated. The An-28 was off course at the time and prematurely descended through cloud which shrouded the high terrain.