Investigators have commenced detailed mathematical modelling of a crashed Bek Air Fokker 100's flightpath, after icing was identified as a leading suspect in the fatal accident.
Preliminary findings from the accident inquiry, disclosed at a formal Kazakh government briefing, have found that the aircraft had been "partially treated" with the de-icing fluid, with only the horizontal stabiliser covered.
"The wings were not processed," it states. "The commission has not ruled out the possibility of ice on the surfaces of the aircraft, which was parked for about two days."
Russia's Interstate Aviation Committee says it has obtained a "priority version" of the cause of the accident, after preliminary analysis of the information downloaded from the flight-data and cockpit-voice recorders from the jet.
The commission says aircraft's tail struck the ground six times during its attempt to lift off from Almaty during a flight to Nur-Sultan on 27 December, and the aircraft also experienced a single wing strike.
The Fokker's landing-gear contacted the ground four times, it adds, and 38 runway lights were damaged during the accident.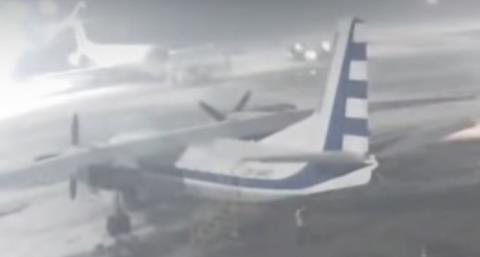 In order to establish the aerodynamic characteristics of the aircraft during take-off, says the Interstate Aviation Committee, an international investigation team has embarked on efforts to model the flight.
This will take into account "the influence of external factors, primarily ground icing", it adds. The study will analyse the aircraft's motion and the actions of the crew.
Dutch investigators have been given a copy of the flight-data recording, says the committee, and are co-operating with the modelling work along with representatives from Kazakhstan and the European Union Aviation Safety Agency. The Netherlands is supporting the work as the state of Fokker manufacture.
Investigators have pursued other lines of inquiry but have found no evidence of incorrect loading or balance.
But several subcommittees have been set up to examine various aspects of the accident, and a laboratory study is under way to establish whether de-icing fluid met the required criteria.
Investigators have drawn up diagrams of the aircraft's trajectory, including distribution of wreckage and identified the locations where it contacted the ground during its take-off run.
Kazakhstan's anti-corruption service is also looking into whether plots of land near Almaty airport were illegally provided for construction within the airport's protection zone, says the commission.
Twelve fatalities from among the 98 occupants of the aircraft resulted after the jet veered to the right of the runway 05R centreline and collided with buildings.