Russian researchers have completed static testing of the Irkut MC-21 twinjet, after reaching the end of a final series of load cycles.
Over the course of the tests the airframe has been subjected to loads substantially exceeding those encountered in operation.
The Central Aerohydrodynamic Institute in Moscow says the airframe being used underwent "refurbishment" this year ahead of checks for its ability to withstand hard landings.
Several load scenarios were explored, including operational level, maximum design level, and loading to destruction of the fuselage.
The results, says the institute, "fully confirmed" the aircraft's design parameters.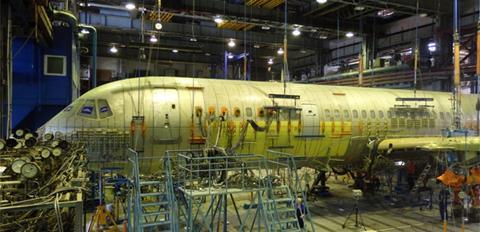 Testing for emergency landings has also been conducted on a wing box constructed of domestically-produced composite material.
This involves checking the controlled separation of points in the landing-gear which are designed to fracture under duress in order to prevent transfer of stress to the wing box, protecting it from fuel spillage.
"During the tests, it was proven that – when the maximum loads are exceeded – the landing-gear safely separates from the aircraft," says the institute.
Irkut general director Andrei Boginsky says the static tests verify calculations on the MC-21's strength, and that the work will be continued during life-cycle testing.
The head of the institute's aircraft strength division, Mikhail Zichenkov, says the aircraft withstood loads above its design level "in all cases".
"Effectiveness of all constructive solutions adopted by the developer in the aircraft design has been demonstrated experimentally," he adds.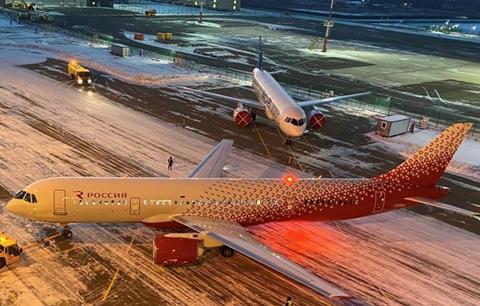 Irkut has progressed with operational flight-testing with one of the prototype MC-21-300s – number 73054 – painted in the livery of initial operator Rossiya, and transferred to Moscow Zhukovsky.
It will be one of three aircraft to be painted in the airline's colours for a programme of flight-instructor training, under a co-operative effort with the carrier which will include setting out a maintenance strategy for the twinjet on Aeroflot Group's network.