French investigators have determined that a Boeing 737-800 experienced two successive unreliable air data incidents, after an overnight technical check failed to uncover a latent flaw in its angle-of-attack sensor.
The Transavia aircraft (F-GZHO) had been ferried from Norwich to Paris Orly on 7 February 2018, after undergoing maintenance, but its crew had to deal with airspeed, altitude and angle-of-attack 'disagree' alerts during the flight.
Investigation authority BEA says the aircraft underwent an overnight check at Orly, but a technician did not "strictly comply" with troubleshooting procedures in a fault isolation manual.
As a result he did not test the stall management yaw damper computer to see whether it had recorded a failure – a test required after an angle-of-attack disagree alert.
The aircraft was cleared to operate a service to Marrakech the following day, 8 February, but its pilots – one of whom was under instruction for captaincy – also experienced similar problems to those of the inbound crew. They ultimately decided to return to Orly.
BEA says the maintenance team which inspected the aircraft noticed that the right-hand angle-of-attack sensor was "abnormally resistant" to being turned, and emitted "unusual clicking noises".
Tests on the yaw damper computer revealed error messages about a sensor anomaly, "requiring its replacement", the inquiry adds.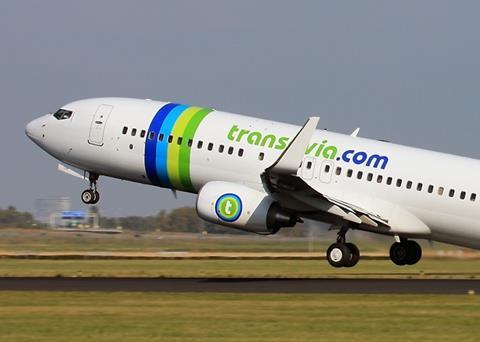 Examination of the faulty sensor by KLM Engineering and Maintenance in Amsterdam found damage to several internal components.
The sensor has two resolvers, which transmit their data to aircraft systems, and one of these resolvers was blocked in rotation. Inspection of the resolver revealed a viscous and tacky substance preventing movement of parts.
BEA says it could not determine whether the substance was present when the resolver or sensor were manufactured in 2014, or whether it was the result of later exposure. The aircraft was delivered new to Transavia in February 2015 and the sensor had not undergone disassembly since.
But analysis of the aircraft's flight data since its delivery revealed a gradually-evolving dysfunction of the right-hand angle-of-attack sensor over the aircraft's three years in service.
The values from this sensor changed in "increasingly longer steps", says BEA, compared with those from the sensor installed on the left-hand side.
BEA says it could not establish why the flaw, present during the aircraft's entire service life, led to the generation of alerts after the aircraft had spent time undergoing maintenance in Norwich.
It points out, however, that one of the maintenance operations required the two angle-of-attack sensors to be manually rotated by 30°. No anomaly had been noticed, says the inquiry, but the handling might have "exacerbated the dysfunction" before the ferry flight to Paris.
BEA adds that use of the fault isolation manual during the subsequent technical inspection at Orly would have ensured a "more complete" check. "The failure would have probably been detected and the sensor replaced," it states.