UK investigators have disclosed that ground personnel inserted a Boeing 787-8 downlock pin into the wrong location before the British Airways aircraft suffered an inadvertent nose-gear retraction at London Heathrow.
The accident involving G-ZBJB occurred on 18 June at Heathrow stand 583 as the aircraft was being prepared for a cargo service to Frankfurt.
It sustained damage to its lower forward fuselage and engine cowls, and one of its passenger doors detached.
The Air Accidents Investigation Branch says the jet had been undergoing a procedure to clear maintenance messages relating to a deferred defect.
This procedure required the landing-gear selection lever to be cycled with hydraulic power applied to the aircraft.
To prevent the landing-gear retracting during this process, pins were required to be inserted in the nose-gear and main landing-gear downlocks.
"However, the [nose-gear] downlock pin was installed in the [nose-gear] downlock apex pin bore which was adjacent to the correct location to install the downlock pin," says the inquiry.
"When the landing gear selector was cycled the [nose-gear] retracted."
Two mechanics had been tasked with inserting the locking pins. But the inquiry says that one of them was "not tall enough" to reach the insertion point on the nose-gear, and so he simply pointed to the location while the other mechanic fitted the pin.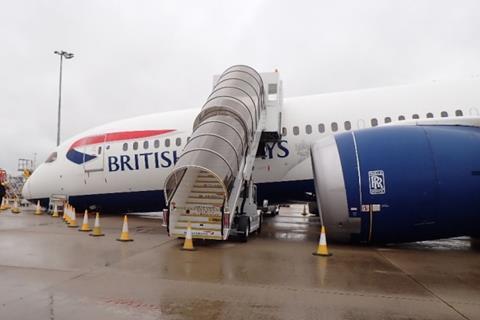 Two crew members were on board the aircraft. One suffered minor injuries, as did another individual.
Although an airworthiness directive, with a three-year compliance deadline, had been issued in January last year to install an insert over the apex pin bore – in order to prevent incorrect fitting of the downlock pin – this had not been implemented on the BA 787 at the time of the event.