Los Angeles airport's operator is the latest to conduct tests of security technology firm Liberty Defense's Hexwave artificial-intelligence screening system, which will be used to scan employees.
The week-long trial at Los Angeles International will be held within the Tom Bradley terminal.
Hexwave uses a combination of 3D imaging, millimetre-wave technology and artificial intelligence to detect concealed metallic and non-metallic weapons – including liquid, plastic and powder explosives, and printed guns.
"We take security measures and the efficiency of screening very seriously at our airports, and our approach is to look to security technology that can help us continue to stay ahead of the curve," says Los Angeles World Airports police chief Cecil Rhambo.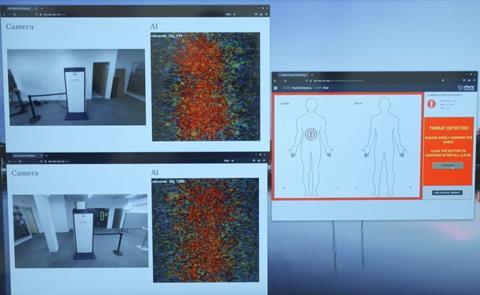 Hexwave is based on a walk-through contactless portal which allows rapid scanning without the subjects' having to offload phones, keys and similar objects.
"The mobility of the Hexwave system and its ability to detect non-metallic and metallic threats are features we look forward to evaluating during this trial phase to help enhance our employee screening capabilities," adds Rhambo.
Hexwave has previously been selected for trials at Toronto Pearson airport, US airports including Oakland, as well as evaluation by a US airline.
Liberty Defense chief Bill Frain says Hexwave technology is flexible and can be "rapidly deployed" to various areas inside and outside airport facilities.