Spanish air navigation service Enaire has started implementing an air traffic optimisation project at Madrid Barajas airport, including independent approaches to its parallel runways.
The project aims to modernise instrument arrival and departure procedures by adapting them to area navigation and performance-based navigation requirements.
Enaire says the scheme – known as AMBAR – will generate "significant savings" for airlines, from reduced fuel consumption and overall enhancement of service quality.
It adds that it prepares the airport for European regulatory changes scheduled for 2024 and 2030 relating to arrival and departure routes.
Enaire states that the project will improve operational safety, by reducing complexity and making manoeuvring "more predictable", to the benefit of pilots and air traffic controllers.
The restructured airspace will allow aircraft to operate more efficient flight profiles and shorter routes.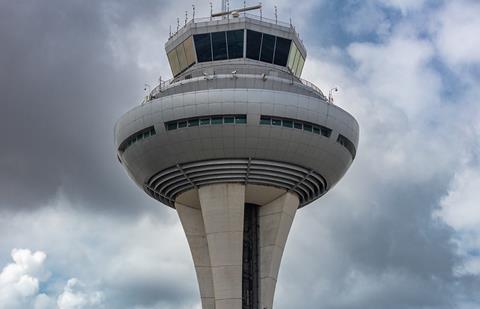 "Changes proposed in the AMBAR project do not substantially change the acoustic impact in relation to the current scenario in the vicinity of the airport," says Enaire.
"And they significantly improve conditions, in terms of noise emissions, in areas that are further from it."
Analysis of the environmental impact was laid out in a government bulletin published in June last year.
The bulletin stated that all conventional departure procedures would be eliminated, and new trajectories defined, with 36 daytime area navigation procedures developed, along with 31 nighttime.
Procedures for arrivals would also be overhauled with 11 area navigation procedures for each of the northern and southern runway configurations.
Enaire says the project has "gone through the necessary environmental processes" and the changes have been approved by the Spanish aviation safety agency before being included in the Spanish aeronautical information publication.