Boeing has amended removal and installation maintenance instructions for Boeing 737 dorsal fins after an incident in which a 737-800 arrived at San Diego with several structural components of the vertical fin missing.
The aircraft (N820TJ), operating a Swift Air flight, had departed Victorville in California on 19 May 2020.
While climbing through 8,000ft the crew heard a "loud bang", says the US National Transportation Safety Board.
"Because the flight instruments and gauges showed that the [aircraft] was operating normally, the flight crew elected to continue to [San Diego]," it adds.
The landing was uneventful but inspection of the jet showed the dorsal fin, located at forward base of the vertical stabiliser, as well as three panels on the stabiliser were missing.
Examination also found that the left-hand horizontal stabiliser, as well as the fuselage crown skin, sustained "substantial damage" as the structures detached during flight.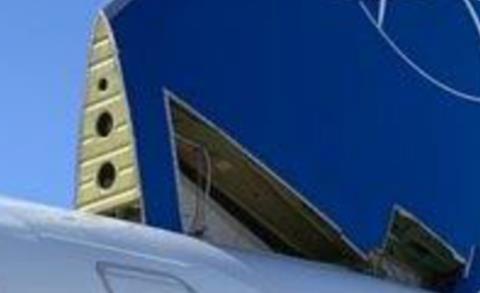 Most of the dorsal fin and the panels, along with half of the 14 bolts attaching the dorsal fin to the fuselage, were not recovered.
Four of the seven recovered bolts were still installed, but one of them was not the correct part number – it was also longer than required.
Maintenance on the dorsal fin had been carried out in February 2019. The inquiry has determined that the missing bolts either became loose, or fractured, or were not properly installed during servicing.
Swift Air and parent company IAero Group reviewed and revised the relevant maintenance procedures, including introducing additional training, in the five months after the incident.
Boeing also updated the dorsal fin removal and installation instructions, in the aircraft maintenance manual for 737-600s to -900s, in February this year – the change stresses the need to keep track of each removed fastener's location, because they have different dimensions, and features a caution underlining the importance of matching the correct bolt and grip length.
None of the 88 passengers and seven crew members was injured during the incident.