Irkut's MC-21-300 prototype has completed a series of natural icing certification tests and returned to its base at Moscow Zhukovsky.
The twinjet, powered by Pratt & Whitney PW1400G engines, had been dispatched to Arkhangelsk in order to conduct flights over the White Sea, Pechora Bay and the subpolar regions of the Ural mountains.
Russian aerospace firm United Aircraft says the aircraft, with a crew of five, carried out 14 flights, of durations from 3-5h, in suitable atmospheric conditions.
It says crews would typically scan for clouds favouring the accretion of ice on the airframe, and monitor the build up during the flight through these clouds with dedicated instrumentation.
"Upon reaching the required ice thickness the aircraft maintained a given altitude at which its behaviour under the natural icing conditions was assessed," says United Aircraft.
"The thickness of the ice layer increased from flight to flight."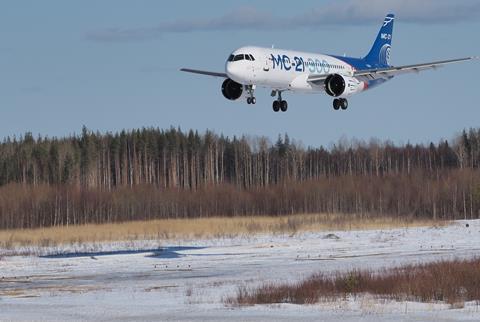 Certification standards require the aircraft to achieve certain performance characteristics with specific levels of ice contamination, which can alter the profile of the wing and adversely affect lift characteristics.
United Aircraft says the MC-21 maintained its stability and controllability despite the icing. The crew also tested operation of the aircraft's anti-icing systems and confirmed the jet's ability to continue flying with these system inoperative.
"The test programme has been fully completed," the company adds. "Preliminary test results showed that the MC-21-300 complies with Russian and European aviation standards in terms of icing."
Landing-gear operation, radio communications and external lighting were also checked during the series of icing tests.