Russian analysts have been refining the flight-control system of the Irkut MC-21-300 to establish protection criteria for avoiding unusual attitudes.
The twinjet has a limiter subsystem within its integrated control system which is responsible for preventing the aircraft from entering "difficult situations", says the Central Aerohydrodynamic Institute.
It says the work to define the various algorithms completes the most recent phase of research into the control system.
These are focused on preventing the MC-21 from exceeding critical angles of attack and overload conditions during manoeuvring.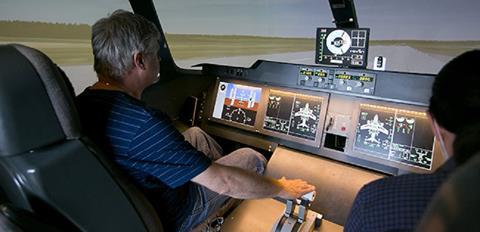 The institute adds that computation work has been conducted on airspeed and Mach limitations during emergency descent, averting tail-strike during take-off, and avoiding runway contact with the engine nacelles.
All the analysis is being carried out in parallel with the certification campaign – undertaken by the four flight-test aircraft, all of which are fitted with Pratt & Whitney PW1400G engines – and bench-testing of aircraft systems.
Central Aerohydrodynamic Institute flight-dynamics chief researcher Yuri Shelyukhin says the limitation function, and the number of parameters it takes into account, "significantly surpasses" the capabilities of previous systems.
This will "ensure a high level of flight safety" for MC-21 crews, he adds.