Nigerian specialists have disclosed that a serious depressurisation incident involving a Med-View Airline Boeing 737-500 was not reported to the country's investigation authority.
The aircraft (5N-BQM) had been cruising at 32,000ft en route from Abuja to Lagos, with 34 occupants, on 23 July.
Lagos's runway 18R had been closed and the 737 had been sequenced for 18L, but was seventh in line to land.
Nigeria's Accident Investigation Bureau says the aircraft was cleared to descend to 16,000ft and hold over Lagos, according to the first officer, who was handed control of the jet so the captain could brief passengers about the arrival delay.
As the captain was informing passengers, the cabin-altitude warning horn sounded and he put on his oxygen mask before instructing the first officer to set the pressurisation mode to 'manual' and close the outflow valve.
With the cabin altitude still increasing, the captain initiated an emergency descent. During the descent the passenger oxygen masks deployed automatically.
Lagos approach control initially vectored the aircraft for delay sequencing but the crew declined, citing weather conditions.
Once the aircraft's cabin altitude was under control at 8,000ft the crew – some 8min after contacting Lagos approach – requested a priority landing, at first without identifying the nature of the emergency, says the inquiry.
The aircraft was vectored and cleared to 3,500ft, after which the crew informed air traffic control about the emergency descent, and the flight was granted an ILS approach to runway 18L, where it subsequently landed.
None of those on board was injured. But the inquiry states that the incident was "not reported to the bureau, as required by [regulations]" and that investigators only became aware of the occurrence from news media coverage.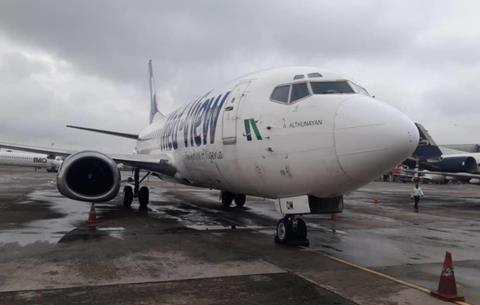 The inquiry, in its preliminary findings, says the cockpit-voice recording had been overwritten and was unavailable to investigators, so it has relied on crew testimony to help understand the circumstances.
It adds that, during an inspection of the aircraft, the passenger oxygen switch was found in the 'normal' position but with its "wire lock broken".
The captain of the jet had 7,500h on type while the first officer had 265h.
Med-View remains one of the airlines individually banned from European airspace as a result of its blacklisting by the European Commission in mid-2017.
Cirium fleets data indicates the aircraft was originally delivered to Rio Sul in 1998, before being operated by Okay Airways and Georgian Airways, and was picked up by Med-View in 2013.