Nigerian investigators probing a landing Dornier 328's runway excursion at Lagos have disclosed that it occurred as the aircraft slowed to 50kt, just after control was handed to the captain.
The turboprop, operated by private carrier Dornier Aviation Nigeria AEIP, veered "uncontrollably" to the right and came to rest on the grass after landing on runway 18L, says the Nigerian Accident Investigation Bureau.
It had been arriving from Port Harcourt military airport, with 20 occupants, in daylight and good visibility on 14 March.
The first officer was the flying pilot, and the flight from departure to the ILS approach for 18L was normal.
Meteorological information given to the crew during the landing clearance included a crosswind component from the right, and the crew was cautioned about possible bird activity.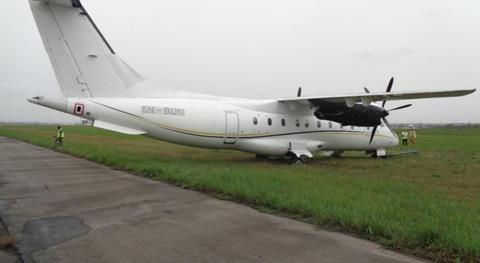 The 328 touched down to the right of the centreline and the first officer testified that he retarded the throttle levers to ground-idle before applying reverse thrust.
He handed control of the aircraft, upon request, to the captain as the aircraft decelerated below 60kt.
But according to the first officer, the captain "noticed a sudden veering of the aircraft to the right" as the Dornier slowed to 50kt, and called for the condition levers – located to the right of the throttles – to be reduced to their minimum position.
"[The captain] then regained control of the aircraft momentarily," says the investigation board in its preliminary findings. "Thereafter, the aircraft veered right again uncontrollably onto the grass lawn and stopped."
No conclusions have been reached on the reason for the excursion.
Passengers disembarked normally and none of the 16 passengers and four crew members was injured. The aircraft – a 20-year old airframe, 5N-BUN – was not damaged.
Both pilots had considerable experience on type, the captain with over 2,000h and the first officer with nearly 5,000h.