Nigerian operator Max Air is claiming it was supplied with contaminated fuel before the suspension of its Boeing 737 operations, a claim which fuel provider Octavus is firmly denying.
Max Air says it conducted an internal investigation which revealed the carrier was supplied with "adulterated fuel", prompting an in-house audit.
The airline says it took the "pro-active decision" to suspend its operations before the Nigeria Civil Aviation Authority intervened to halt Max's 737 services citing a series of safety incidents – including fuel contamination.
"We are fully dedicated to addressing the safety concerns raised," insists Max Air. "Our diligent team is working around the clock to swiftly resolve these issues, and we anticipate a resolution very soon."
The Civil Aviation Authority is due to hold a meeting with airlines, aviation fuel suppliers and the Nigerian downstream petroleum regulator NMDPRA on 20 July.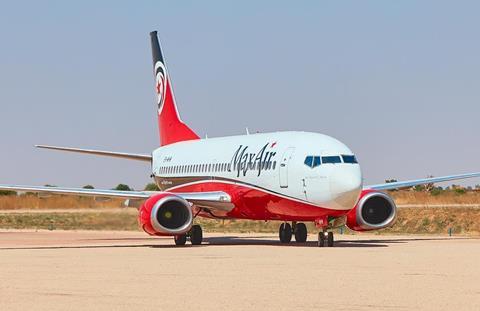 Fuel supplier Octavus says it "categorically" denies the "unfounded and ill-intentioned allegations" from Max Air.
"We firmly stand by the integrity and quality of our products and refute any attempts to tarnish our reputation," it states.
Octavus says there is "no evidence" that occurrences with Max Air's aircraft are linked to the fuel it has supplied to the carrier, adding that it typically handles around 100 flights daily with "no reported complaints" from customers.
"The complexities of aviation operations involve multiple factors and it is crucial to conduct a comprehensive investigation to determine the actual root cause of the incidents," it states.
Octavus says it will co-operate with inquiries by the Nigeria Civil Aviation Authority and other regulators, stressing that it sources its products exclusively from "trusted partners" – including BP and the national Nigerian petroleum firm NNPC – and maintains "strict adherence to international standards and industry best practices" in fuel supply and distribution.