Turkey's foreign ministry has disclosed that Turkish and Russian personnel were among the fatalities after a Beriev Be-200 firefighting aircraft crashed during wildfire extinguishing operations.
None of those on board the twinjet survived the 14 August accident.
The aircraft came down in the Kahramanmaras region, in the southern central part of Turkey, foreign minister Mevlut Cavusoglu states.
According to the Kahramanmaras regional governor, the firefighting aircraft had been deployed in response to a forest fire caused by a lightning strike.
"Our teams were immediately dispatched to the scene," the governor's office says. "From initial information, it was determined that there were no survivors from among the crew."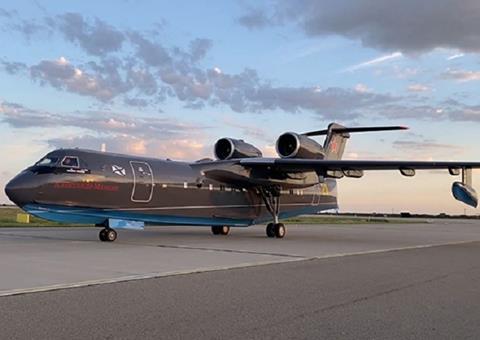 Images from the scene indicate the aircraft was destroyed by fire with only the empennage remaining intact.
Russia's defence ministry stated in early July that, under a government order, a naval Be-200 was being sent to assist Turkey in combating forest fires.
It departed the Krymsk airfield, near the Black Sea coast, to a temporary station in Adana on 8 July.
Be-200s are amphibious aircraft capable of accommodating 12t of water in tanks which are filled in a few seconds as it skims the surface of lakes. The type has also been used recently for firefighting in Greece.