Russia's federal air transport regulator has listed senior figures from the private military Wagner Group, including leader Yevgeny Prigozhin, as having been among 10 occupants of an Embraer Legacy business jet which crashed in the Tver region of the country.
Rosaviatsia has released a manifest for the aircraft, from its operator, which includes Prigozhin's name as well as that of Wagner figure Dmitry Utkin among seven passengers. Two pilots and a cabin crew member are also listed.
The federal emergency situations ministry is conducting search operations after the jet came down northwest of Moscow. It states that 10 occupants were on board, including three crew members, and preliminary information indicates there were no survivors.
According to the ministry the jet came down near the village of Kuzhenkino, while flying from Moscow to St Petersburg on 23 August.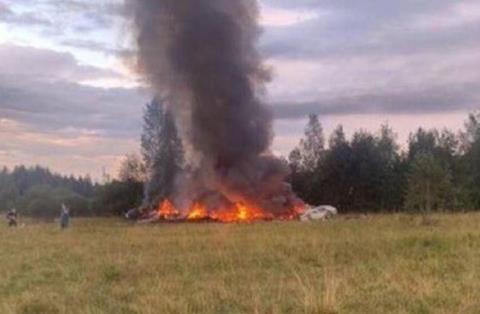 Rosaviatsia states that the aircraft belonged to an entity it identifies as MNT-Aero, which specialises in business transport.
"A specially-created commission of [Rosaviatsia] has begun investigating the circumstances and causes of the accident," it adds, through its official social media channel.
The commission has started work to collate information on crew training, the aircraft's technical condition, the weather situation on its route, the work of air traffic control, and radio equipment.
Specialists will also have to retrieve the aircraft's flight recorders for decoding and analysis, it says.
Video images purportedly showing the wreckage include a partial registration on an engine consistent with a Legacy 600 registered RA-02795.
No conclusions have formally been drawn over the circumstances of the crash.
But Prigozhin's organisation had been involved in the Ukrainian conflict, and he notably initiated an uprising in June – called off within days – challenging the leadership of the Russian government.
Russia's federal Investigative Committee states that it has opened a routine criminal case regarding the loss of the aircraft, to probe whether there is evidence of violation of safety rules governing air transport operations.
It adds that it has sent a team to the scene of the crash to conduct forensic examination and support efforts to establish the cause.